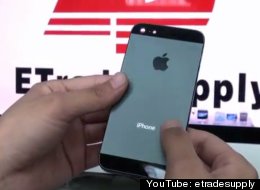 Every week, the numerous blogs covering the mysterious Apple empire float unconfirmed rumors, blatant speculation and questionably-sourced reports on what the company might be unveiling in the near or distant future. Let's take a look back at what the Apple blogs were excited about during the week of June 24 - 30. Check out our last edition of Apple rumors here, and for all the latest you can follow me on Twitter right here.
This Week In Apple Rumors: iTunes Is A Changin'
It appears that iTunes -- your Apple media player and digital storefront -- will undergo a total overhaul by the end of 2012, according to a new report by Bloomberg. I'm already feeling nostalgic for the old iTunes, the one that constantly froze my computer and prompted me to download web browsers I didn't want and caused other programs to crash in its tremendous wake. I suppose we still have a few more months with the old, clunky, ludicrously-inefficient iTunes. Not time to say goodbye yet, even if I feel a tear coming to my eye. Here's the meat of the Bloomberg report: Apple will unveil the changes by year's end, said the people, who asked not to be identified because the plans aren't public. The company will more closely integrate its iCloud file- storage service with iTunes so users can more seamlessly access and manage their music, videos and downloaded software apps across different Apple gadgets, the people said. Apple also plans new features for sharing music, the people said. No word on whether the new iTunes will retain the dinosaur-slow performance of the old iTunes, but I can only imagine we'll see some speed improvements -- in addition to the iCloud and interface tweaks -- too; 9to5Mac has more details in a report published in February of this year.

The release of the iPhone 5 "will be the biggest product launch in consumer electronics' history," says Well Fargo. Given that Apple events are already stop-everything-and-hold-in-your-pee mega-happenings, and that the iPhone is Apple's most popular consumer product by far in terms of sales, and that we've been waiting for this thing for almost two years now -- is there any reason to doubt that the iPhone 5 product launch will be nothing short of Bieberistic in scale? Perhaps this is what the Mayans had predicted in their calendars: total consumer electronics apocalypse. In a note to investors, the fantastically-named Wells Fargo analyst Maynard Um wrote that he is looking for a totally redesigned form factor for the next iPhone (see left) as well as 4G LTE, which the iPad received earlier in 2012. But in addition to the anticipated redesign -- bumping the display up from 3.5-inches to 4.0-inches -- we also have tales of another feature coming to the iPhone, one available on other smartphones that hasn't really panned out quite yet...

Several Android smartphones -- including the Galaxy Nexus and Galaxy S3 -- already have Near Field Communication (NFC) chips installed, allowing those phones to transfer content or pay bills just by tapping the phone against another NFC phone or an NFC-enabled surface. Windows Phone 8 -- the upcoming mobile OS from Microsoft -- will also support NFC, meaning some NFC-enabled Nokias and such are surely on their way this winter. Don't expect the next iPhone to be left out of that fun, according to a report from 9to5Mac. Seth Weintraub claims that, based on a bit of code digging, iPhone 5 prototypes appear to be eqiupped with NFC chips and antennas. (NOTE: This has nothing to do with the National Football Conference in the NFL. A complete explanation of what the non-pigskin NFC is, and how it works, can be found right here). Adding NFC to the next iPhone makes logical sense, what with the unveiling of the coupon-managing PassBook application coming with iOS 6. NFC would potentially add the capability to load your credit card information onto your iPhone (just like you would, say, your Twitter account) and then pay for food and groceries and whatnot by bumping your phone against a little pad at the register, just as you would with Google Wallet. Convenient! And, too, a bit disconcerting, thinking that your bank account could be stolen along with your smartphone. These are the wages of the comforts of technology, I suppose. Losing your iPhone is about to become a whole lot more stressful.

Wells Fargo, we just don't know how to quit you. Analyst Maynard Um followed up his previous iPhone predictions with a few more juicy details. Um sees a whole bunch of new products coming down the Apple pipeline, including new iMac, Mac Pro, and iPod Touch. Most intriguingly, Um agrees with previous reports that Apple is working on a so-called iPad Mini, a 7-inch tablet to compete with the likes of the Kindle Fire and just-announced Nexus 7. He also thinks that Apple is indeed working on its own television -- the so-called "iTV" -- but he sees its release in 2013, at the earliest, at odds with many predictions that the iTV would launch in time for Christmas 2012. A separate rumor from this week would seem to confirm a late launch date, as Foxconn seems to be shoring up its TV-making resources in order to land the contract to produce Apple's television. In other words, that iTV may not even be in even the earliest stages of manufacture. That would indicate a distant release date, perhaps in 2013 or later. Don't worry, there's nothing good on cable, anyway. That's all for This Week In Apple Rumors. Make sure you check back for next week's Apple rumors, when I will attempt the daredevil task of writing this column with both iTunes and Adobe Photoshop open on my computer at once. And if you can't wait until that thrilling spectacle, you can get every Apple rumor instantly delivered to your Twitter feed by following me on Twitter right here.

What the new iOS tells us about the next-gen iPhone.