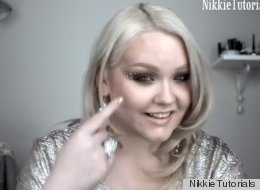 We love the "no-makeup" look because it lets a woman's natural beauty shine through. But it turns out going au naturel is actually safe, too. A few years ago, the Telegraph found that nearly 500,000 road collisions in England every year are caused by female drivers putting on makeup behind the wheel.
So Volkswagen and ad agency DDB Berlin decided raise awareness with a video, brought to our attention by Buzzfeed. And it's really, really good.
The concept? Take a real-life YouTube makeup artist with a massive following (in this case, Nikkie of NikkieTutorials) and have her putting on makeup. Then, well, make her crash. The result is "A Crash Course to Shine," the most jarring instructional makeup video you'll ever seen.
Check out the video above as well as Volkswagen and DDB Berlin's explanation below. What do you think of the video?
Celebrity San-Makeup Twitpics
"Have a beautiful day!!" http://twitpic.com/91nsx4

"Just realized how dumb u look takin self pix on iPhone thanx to @leandra246" http://instagr.am/p/KEe0oyBMys/

"I woke up this morning and decided I'm over Hollywood's perfection requirement. To all my girls(and boys) who have ever been embarrassed by their skin! I salute you! I'm not perfect - and that's okay with me!" http://twitpic.com/9h9dm3

@Twitter

"No make up day :) and IDC :)" pic.twitter.com/ikJ1JJLX

"Reunited and it feels so good... Me & Kitty Purry havin a kip." http://twitpic.com/7lhr69

"The no make up look... Glam look to follow" http://lockerz.com/s/202020384

"Uhh...Does anyone know how to work this twisty towel thing? Haha!" http://say.ly/ObH1iZN

"Just found my favorite pj's! Got to be up at 5am for @e_fashionpolice thank god for my jet lag & comfy bed night night #tweethearts" http://instagr.am/p/L1mX8xgb0n/
Want more? Be sure to check out HuffPost Style on Twitter, Facebook, Tumblr and Pinterest.