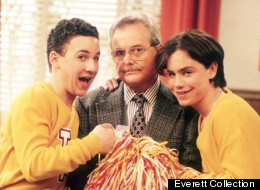 In TNT's latest crime drama, Perception, star Eric McCormack plays Dr. Daniel Pierce, a neuroscientist who moonlights as an FBI aid.
He also teaches at a university.
This got us nostalgic for the countless teachers, professors, educators, and, perhaps most importantly, entertainers, who've graced the small screen—the ones who taught us a thing or two, made us laugh, or maybe even tear up a little.
Fictional or real (or simply keeping it real), the following are some of our favorite teachers on the tube.
Have one that didn't make our grade? Nominate your own teacher of the year by sounding off in the comments below, and don't forget to tune in to the premiere of Perception on Monday, July 9, at 10/9c on TNT.
Hot for Teacher: Our Favorite Educators on TV (SLIDESHOW)
Was it slightly peculiar that the mustachioed purveyor of sage life lessons followed Cory and his friends throughout the entirety of their education? Absolutely. Was it ever a problem for any of us who grew to know him as our own surrogate teacher? Absolutely not.

Because: HEY HEY HEY HEY.

Fun Fact: After one season, what began as Good Morning, Miss Bliss evolved into the hit sitcom, Saved by the Bell.

Before becoming the face of American truthiness, Stephen Colbert earned his stripes teaching Jerri Blank's history class. Needless to say, he chews up the scenery wherever he goes.

Mathematically obsessed. Schoolboy crush of big Pete. Oddly suggestive last name. Bass player in little Pete's band, "The Blowholes." 'Nuff said.

Because if you've ever had a substitute in a science class in the '90s, it very likely meant a VHS of Bill Nye. We're not complaining.

The object of Beaver Cleaver's schoolboy crush, the sweet teacher was not to be seen after a paltry four-episode tenure. The Beaver tends to have that effect on teachers.

With his "handy" Mr. Hat, this transsexual teacher is responsible for teaching our favorite foul-mouthed foursome everything they need to know. And a whole lot they shouldn't.

As an ill-fated chemistry teacher turned crystal meth kingpin, Walter White has broken bad beyond all repair (enlisting a former student as partner in crime, a few murders here and there, buying his son a PT Cruiser...), but we may be able to look past all that given his very inspired nickname. Aspiring chemists will never read the name "Werner Heisenberg" the same way again.

Whether you're a fan of PBS documentaries, astronomy, or mind-altering substances, nobody can deny that Sagan's legacy has earned a rabid fanbase of stargazers. "Billions and billions" of them, no doubt.

Demanding, but fair, Mr. Collins emphatically defined what it meant to be a teacher in a mere handful of episodes, as well as exhibited the impact mentors can have on their pupils. His untimely passing signaled a pivotal rite of passage for Kevin Arnold, providing him the moral and ethical compass he sorely needed in math and in life.

The resident Chinese Spanish teacher (that is: Spanish-teaching teacher who is Chinese) at Greendale Community College in the meta-comedy Community is half instructor and all dictator. With a nickname like "El Tigre Chino," he's a forced to be reckoned with... and laughed at.

Incompetent, alcoholic, overweight, bully. We're not certain these traits make for a particularly admirable children's soccer coach, but before he went super-spy on FX's Archer, H. Jon Benjamin gave voice to a deadbeat as hilarious as he is deadpan. Also: he has orange flames for hair.

As a disgraced cop, this unassuming teacher thrust into the Baltimore public school system finds a new lease on life helping delinquent youth in the classroom as a middle school teacher, utilizing street dice and Monopoly money to teach math.

As a once-idealistic educator jaded by the public school system (no thanks to students like Bart Simpson), this chain-smoking divorcee with a not-so-discreet romance with Principal Skinner has managed to stand out in a sea of Springfield's equally colorful characters.

Played with nerdy nuance by David Schwimmer, "Dr. Ross Geller" (as he prefers to call himself) is the affable NYU professor who strives to be taken seriously--going so far as to adopt a fake accent. Easier said than done when you're also known as "Professor McNails-His-Students."

Love it or loathe it, Glee is a phenomenon perhaps best exemplified by the yin and yang of its teachers. On one hand is McKinley High's dreamboat director of the glee club, and on the other is his antithesis: the antagonistic (and loud) Cheerleading coach, Sue Sylvester. Neither needs a megaphone to get our attention.

What happens after you're cut from playing in the NBA? You teach high school P.E., of course. Or so this punny show would have you believe. Real life physical education teachers, however, seldom turn out that cool, making Mr. Cooper one of the few teachers we wouldn't mind hanging with.

Sure, he's not technically a teacher, but as a Watcher to everyone's favorite Slayer, he totally gets a pass. It doesn't hurt that he dropped out of Oxford to dabble in dark magic and rock 'n' roll, or that he's affectionately referred to as "Ripper."

Any instructor who can tame a rambunctious young John Travolta and a motley crew of remedial "sweathogs" in an inner-city Brooklyn high school is one we (and his students-turned-friends) welcome with open arms.