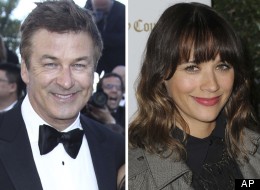 Most TV shows are on hiatus until the fall, but that doesn't mean that fans have to miss out on seeing their favorite small screen stars all summer.
Rashida Jones ("Parks and Recreation"), Alec Baldwin ("30 Rock"), Jim Parsons ("Big Bang Theory") and more haven't disappeared into Netflix and re-runs just because their shows are between seasons. They can be seen in other projects, appearing in movies, musicals and plays.
For example, Jones' fans might be used to seeing her as Ann Perkins, but this summer she is starring in the film "Celeste and Jesse Forever." And Parsons is now performing live in the Broadway production of Mary Chase's "Harvey."
From Kristen Bell to Zooey Deschanel, here's a guide to where some of TV's biggest stars can be seen this summer:
Where You Can See Favorite TV Stars This Summer
Blake Lively is best known for playing "Gossip Girl" Serena van der Woodsen (aka "S"). But this summer, before "Gossip Girl" returns for its sixth and final season, Lively stars in "Savages" as "O" (Ophelia), the girlfriend of two marijuana growers.

These "Parks and Recreation," "The League" and "New Girl" stars respectively teamed up for "Safety Not Guaranteed," a limited release comedy from the producers of "Little Miss Sunshine."

"30 Rock" star Alec Baldwin's diverse talents are on display this summer in another rock-titled project, "Rock of Ages," an adaptation of the homonymous Broadway musical. He also stars in the Italy-set "To Rome With Love," Woody Allen's comedy. Baldwin will return as Jack Donaghy for "30 Rock's" final season.

"SNL" alum Andy Samberg and Rashida Jones co-star in "Celeste and Jesse" (August 3, limited release) as two young divorcees struggling to stay friends and be single again. Although Samberg won't be back on "SNL" next season, Jones, who also co-wrote and co-produced "Celeste and Jesse," will return in the fall to "Parks and Recreation" as Ann Perkins.

Mila Kunis and Seth MacFarlane (the voices of Meg and Peter on "Family Guy") star in "Ted," MacFarlane's comedy (released June 29) about a teddy bear that comes to life (voiced by MacFarlane) and stays that way even when his owner (Mark Wahlberg) grows up. Kunis, whose "Family Guy" character Meg can't ever hold onto a boyfriend, plays Wahlberg's girlfriend, Lori Collins.

Jim Parsons, "The Big Bang Theory's" Sheldon Cooper, will return for the CBS sitcom's sixth season in the fall. However, this summer, the two-time Emmy winner stars in the Broadway production "Harvey," Mary Chase's Pulitzer Prize-winning play.

Gillian Jacobs may not be in school as Britta Perry of "Community" at the moment (amid controversy, the NBC comedy and Jacobs will return for Season 4 in the fall), but she does grace the screen this summer in a memorable cameo in "Seeking a Friend for the End of the World" as a waitress at the fictional restaurant "Friendsy's."

To see Leighton Meester in a different role from "Gossip Girl's" ultimate Manhattan mean girl, Blair Waldorf, see her co-star with Andy Samberg and Adam Sandler in "That's My Boy" as Jamie, Samberg's fiancee.

Zooey Deschanel stars in Fox's quirky sitcom "New Girl" as Jess. In between seasons, she's expected to star off-screen this summer as Loretta Lynn in Broadway's stage adaptation of "Coal Miner's Daughter."

"Saturday Night Live" Season 37 came to an end on May 19, but comedian Bill Hader can still make audiences laugh this summer. He joined the cast of "Men In Black 3" (released May 25) in a cameo role as Andy Warhol for a '60s-set scene.

Though it's almost time to see Bryan Cranston back on "Breaking Bad," you can also catch the actor best known as a meth maker in the 2012 remake of "Total Recall." Cranston stars as the movie's main antagonist, Vilos Cohaagen, the ruthless corporate leader of Euromerica.

Before returning to "30 Rock" for the NBC comedy's final season, Morgan heads to the big screen with Oscar winner Melissa Leo and Oscar nominee Jesse Eisenberg in "Why Stop Now?" Morgan stars as "Sprinkles," a hapless drug dealer, opposite Eisenberg's piano prodigy.

TV stars and affianced couple Dax Shepard ("Parenthood") and Kristen Bell ("House of Lies") co-star in their own indie movie this summer, "Hit and Run." The movie centers on Charlie Bronson (Shepard), a former getaway driver who busts out of the Witness Protection Program to drive his girlfriend (Bell) to L.A. so she can land her dream job. But their road trip goes awry when they're chased by the feds (led by Tom Arnold), and Charlie's former gang of criminals (led by Bradley Cooper) enter the fray.