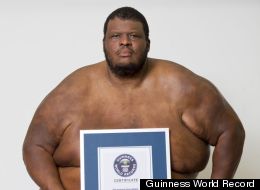 At 6 feet, 8 inches, 704 pounds, Emmanuel Yarborough sticks out in a crowd -- even a crowd of Guinness World Records holders.
Yarborough, 47, is an amateur sumo wrestler who has also competed in mixed martial arts judo, wrestling, and college football.
His record has been inauspicious -- he has a 2-4 as an MMA pro -- but he dominates the field in one area: heft. Yarborough is the world's heaviest living athlete, according to Guinness World Records. It's an honor he has carried with him (along with the massive gut) since 2001.
Yarborough's heavyweight achievement is one of those celebrated in a new Guinness e-book"Wacky Sporting Champions," dedicated to the more unusual sporting records ever, such as the "Fastest 100-Meter Run on All Fours" (18.58 seconds) the "Highest Shallow Dive into One Foot Of Water" (36 feet, 8.94 inches) and "Fastest 100-Meter Hurdles Wearing Swim Fins" (18.52 seconds).
It's been a good life that has included featured roles in Bollywood films and the HBO prison drama Oz, but one thing that has weighed on him is the lack of interaction with other world record holders.
"I wish it was like a secret society with a handshake or something because there aren't that many of us," he told The Huffington Post.
GALLERY: WACKY SPORTING CHAMPIONS (Story continues below)
Guinness World Record Athletes
The heaviest living athlete in the world is sumo wrestler Emmanuel 'Manny' Yarborough, of Rahway, New Jersey. He stands 6ft 8in tall and weighs a colossal 704lb. He was introduced to the sport by his judo coach and seven years later, he is ranked number one in the Open Sumo Wrestling Category for Amateurs.

Jonathan Macfarlane (New Zealand) threw Andrew Rainford a distance of 4.87 meters (15 ft 11 in) on the set of NZ Smashes Guinness World Records at the Sylvia Park shopping mall in Auckland, New Zealand, on July 25, 2009.

The most consecutive passes of a giant volleyball is 582 and was set by Vanessa Sheridan and Paddy Bunce (both from the United Kingdom) during Capital Breakfast with Johnny Vaughan, Capital Radio, London, UK on November 9, 2006 as part of Guinness World Records Day.

The fastest mile covered on spring loaded stilts is 7 min 13 sec set by Ashrita Furman (USA) at the TSV 1865 Dachau Sports Club in Dachau, Germany, on March 30, 2008.

The longest beach volleyball marathon lasted 25 hr 39 min achieved by Mateusz Baca, Sebastian Lüdke, Tomasz Olszak, and Wojciech Kurczyński (all Germans) in Görlitz, Germany, on July 3-4, 2010. The attempt was made at the Rosenhof sports and leisure center by the four members of sports club VfB Görlitz.

The longest professional wrestling match lasted 12 hours and was promoted by Shockwave Impact Wrestling as the Ultimate Iron Man Match at the Shelby County Fairgrounds in Sidney, Ohio. on November 6, 2010. The match was contested by American Kickboxer II aka Brandon Overholser, Dark Angel aka Mike White, DJ Tom Sharp aka Tom Crone, Logan Cross aka Logan Jones, Sid Fabulous aka Mark Easterday, and "Lightning" Tim Lutz.

The record for the longest time controlling a soccer ball whilst lying down is 10 min and 4 sec and was achieved by Tomas Lundman (Sweden) at the Nordstan Shopping Mall, in Gothenburg, Sweden on November 24, 2007.

The most items kicked off people's heads in one minute is 43 and was achieved by Zara Phythian (UK) on the set of Guinness World Records Smashed, at Pinewood Studios, UK, on March 25, 2009.
Sumo wrestling is a game for overweight men. But despite the stress that all the extra mass puts on the body, it's possible to have a much longer career than football players.
"There are guys in their 50s who are doing this," he said. "One guy I know can still do push-ups on his fingertips."
Even though Yarborough can compete at 700 pounds, he doesn't necessarily want to any more.
"I'm trying to lose weight. I can't maintain this weight healthily and get the most out of the sport," he said. "Kelly Gneiting ran a marathon at 400 pounds. He's fat, but he's an agile, athletic guy."
Still, obese people who want to get back in shape could do worse than sumo wrestling, Yarborough said.
"It is a viable way of getting some training," he said. "You're using the whole body and you're getting a workout, but it's not like running a treadmill.
"When you're seriously training, it's grueling," he said. "And when you wrestle, you stay in the ring as long as you're winning and that tests your mettle. It's like King Of The Hill, but all grown up."