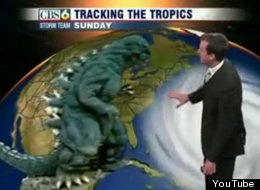 Aaron Justus, weatherman for local CBS affiliate WTVR, sure knows how to handle a high-pressure situation.
Faced with volcanic eruptions, massive tropical storms and battles with Godzilla, Justus manages to maintain his professional tone -- giving the good people of Richmond, Va., the information they'll need to get them through the next few days of terror.
Comedy aside, the last few weeks have seen plenty of record-breaking weather across the country.
Over the weekend, temperatures in four Georgia cities rose to never-before-seen levels -- with Atlanta hitting 105 degrees and Athens registering a record 108 degrees.
Likewise, Michigan is experiencing its own heatwave that has sent temperatures as high as 97 while flash floods threaten counties in the state's Lower Peninsula.