This month marks the largest exhibition in the United States of works by Alighiero Boetti, one of the most influential Italian artists of the 20th and 21st centuries. The exhibit, entitled "Game Plan," officially opened on July 1st at MOMA in New York City, presenting an array of multimedia works spanning the entire career of the Arte Povera leader. The retrospective includes a stunning variety of sculpture, textiles, sketches, photography, and collage, including the vibrantly embroidered maps of the world for which he is best known.
Boetti was born in 1940 in Turin, Italy, an industrial city at that time churning with automobile factories and economic regrowth. In his early school years, the artist demonstrated far-reaching interests in philosophy, business and mathematics, but the overwhelming rush of creative culture brewing in Northern Italy in the 1960s seemed to have taken hold of the young man, and after dropping out of business school he decided to pursue a career in the arts. Influenced by the works of other great artists like Italy's own Lucian Fontana and the German painter Wols, Boetti joined the tight-knit artistic community of Turin to begin a lifelong career in material and conceptual experimentation.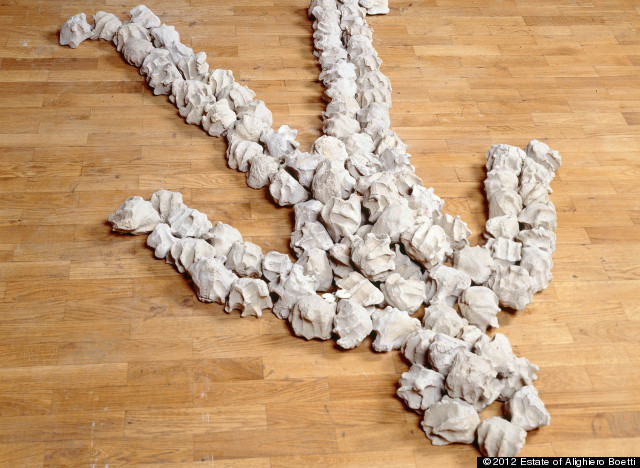 Alighiero Boetti (Italian, 1940-1994). Io che prendo il sole a Torino il 19 gennaio. (Me Sunbathing in Turin 19 January 1969). 1969. 111 pieces of hand-molded concrete, cabbage butterfly 69 11/16 x 35 7/16" (177 x 90 cm). Private collection, Turin. © 2012 Estate of Alighiero Boetti / Artists Rights Society (ARS), New York / SIAE, Rome.
The influence of Turin's industrial core on the artist is apparent at MOMA's exhibition and at first glance seems to be the only over-arching characteristic of the display. The various pieces of Boetti's oeuvre are organized chronologically, beginning with his early sculptural works made from everyday hardware, such as "Castata (Stack)", which is comprised of methodically arranged eternit tubes. Moving from the larger works covered in industrial paint and chrome, the exhibit showcases slightly smaller pieces made from cardboard, concrete and unfinished textiles carefully configured on the floors and walls of the rooms. The dense configuration of unusual objects looks like the remnants of an archaeological dig, arranged in a pleasing manner to reflect the curious nature of their origins.
It's a fitting presentation for an artist whose work functioned in such an intensely idea-driven manner. Boetti may have opted for a career in the visual arts but he never abandoned his passion for language, symbolism and mathematics, and the modest materials with which he worked served simply as a conduit for his continued investigation of organic patterns and probability. Also, as a one-time member of the Arte Povera movement, the use of modest materials was a radical attempt to bring art away from established power structures, particularly the market space that threatened to commodify artistic creation. And many of the works involved not only modest materials but also modest methods of production. Boetti used the postal system and incorporated newspaper headlines into his pieces, sometimes sketching the images of magazine covers like in "Dicembre 1983," and other times collaging personal letters in strategic designs as he did in "Viaggi postali (Postal Voyages)" and several other works.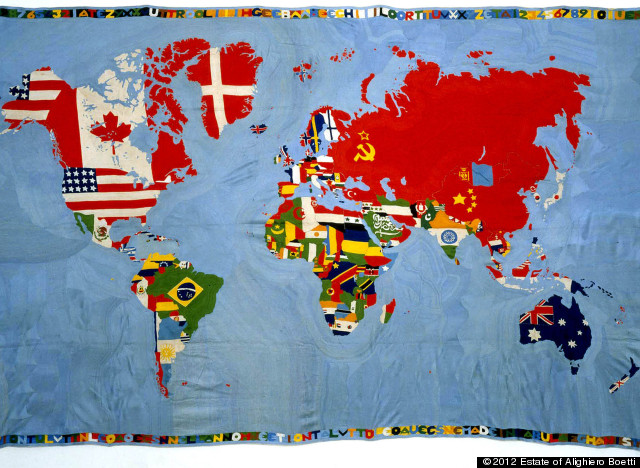 Alighiero Boetti (Italian, 1940-1994). Mappa (Map). 1971-72. Embroidery on linen 78 ¾ x 141 ¾" (200 x 360 cm). Glenstone. © 2012 Estate of Alighiero Boetti / Artists Rights Society (ARS), New York / SIAE, Rome.
In the 1970s, Boetti distanced himself from the Arte Povera movement, focusing on his interest in the non-Western world and highly conceptualized projects that centered on ideas of twinning. In his double-portrait "I Gemelli" displayed in the exhibit, Boetti created what appeared to be a photograph of himself as twins holding each others' hands. And aspects of doubling permeated many of the sketches included in the retrospective that place identical images as bookends of larger designs, like in "Tra se e se (Between Self and Self)." The artist even went as far as changing his name to "Alighiero e Boetti", permanently identifying himself as a dual being.
Soon after his departure from Arte Povera, Boetti began traveling more and more to places like Guatemala and Pakistan, as well as Afghanistan where he owned a hotel, Hotel One, that served as his art haven abroad. After Afghanistan was invaded, he became increasingly preoccupied with conflicts occurring in the Middle East and the ways in which occupied territories were portrayed in the media, spurring the use of territorial outlines in much of his work. Boetti's work also became collaborative during this time, as he not only invited fellow artists to finish portions of his works but also sent many of his larger textile pieces to women in Afghanistan to be completed.
Boetti's wild material diversity and unbridled conceptual investigation skirted the edges of madness, particularly when it came to his obsession with the consumption of time. Like his intense appreciation for categorization and measurement, the artist was constantly bringing attention to the amount of time that went into his various projects. Whether he was creating incomprehensible codes for his "Manifesto" or cataloging the world's longest rivers, he was never one to make anything look easy, instead drawing out every step of the process in the physical appearance and sometimes arbitrary complexity of the end result. For Boetti, time became yet another medium to express his artistic views, and perhaps, as he further distanced himself from the radical political views of the time period, a way of bringing attention to the activities we choose to devote ourselves.
Overall, like the artist himself, the exhibit at MOMA is a fury of philosophical musings and creative exploration. Beyond the ever-present influence of Boetti's hometown, the artist's concerns with the esoteric and the geopolitical weave their way through his impressive mastery of medium after medium.
Alighiero Boetti's "Game Plan" at MOMA
SUBSCRIBE TO & FOLLOW CULTURE SHIFT
Every Friday, HuffPost's Culture Shift newsletter helps you figure out which books you should read, art you should check out, movies you should watch and music should listen to. Learn more