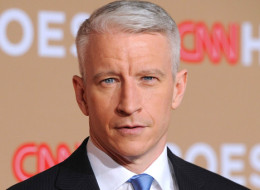 Anderson Cooper became one of a small group of openly gay cable news anchors when he came out on Thursday.
Cooper broke his long silence about his sexuality and love life, and made the public revelation in an email to writer and friend Andrew Sullivan.
He is now at least the sixth cable news anchor who is openly gay. CNN's Don Lemon, who came out in his 2011 memoir "Transparent," was the last host to do so before Cooper. Salon.com's Steve Kornacki, who also came out last year, is the co-host of MSNBC's new show "The Cycle."
Below, see the other cable news anchors who are openly gay and read about how they told the world.
Openly Gay Cable News Anchors
Cooper broke the silence on his sexuality when he finally came out in an email to writer Andrew Sullivan. "The fact is, I'm gay, always have been, always will be, and I couldn't be any more happy, comfortable with myself, and proud," he wrote.

Maddow came out as a freshman at Stanford. She sat down with the school newspaper to talk about being gay on campus, under the condition that the paper would not run the interview until she came out to her parents. That didn't go as planned, as she described in a post about the experience.

Lemon came out with the release of his memoir "Transparent." He revealed that he is gay in an interview in May 2011. He said that he had been open about his sexuality with co-workers, but that the publication of the book pushed him to make a more public statement about it.

Roberts publicly came out at the National Lesbian and Gay Journalists Association in 2006. He was working for CNN at the time, and spoke on a panel about the challenges facing LGBT television anchors. He had been out to friends, family and co-workers since 1999.

Velez-Mitchell came out on the radio with an openly gay host in 2007. The two were discussing Senator Larry Craig, who had just been arrested for trying to engage an undercover cop in gay sex. Reflecting upon the interview later, she said that she had realized she hadn't mentioned anything about being gay herself -- and decided to say it on-air.

Kornacki, co-host of "The Cycle" and Salon.com's senior political writer, came out in October 2011. He did so in a column for the website entitled, "The coming out story I never thought I'd write."