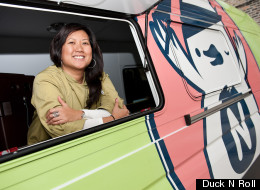 Last month, a group of Chicago aldermen introduced an ordinance touted to make it easier for food trucks to do business in the Windy City. With the seal of approval from Mayor Rahm Emanuel, the measure appears to be headed toward passage.
But even as the ordinance's proponents argue that the measure will eliminate burdensome restrictions and bring "common-sense changes" to the city's food truck industry, many of the city's food truck operators say the proposal could actually ruin their businesses.
So, which is it? We asked Ald. Proco "Joe" Moreno (1st Ward), one of the ordinance's co-sponsors, and Amy Le, co-owner of the popular DucknRoll truck, to discuss the matter. Weigh in on the debate below and let us know whether either side in this ongoing issue changes your mind.
Step


1
Pre-debate poll:
Tell us your opinion before the debate starts to set the starting line
The new, mayor-endorsed ordinance will help make it easier for food trucks to do business in Chicago.
Agree - Thanks for voting! Please proceed to read the debate below
Please vote to proceed to the debate
Step


2
Who makes the better argument?
Mayor Rahm Emanuel's proposed food truck ordinance will allow food truck owners and operators to offer a wider variety of food by allowing us to prep and cook onboard, while also extending sales to 24 hours. However, the ordinance retains existing rules and introduces new restrictions. The increased fines and penalties, banning trucks within 200 feet of a restaurant, and the new requirement of GPS tracking devices make it impossible for us to thrive in a competitive market place. So while we are being offered some new benefits -- what's the cost?
We are not looking for zero regulations. When it comes to protecting the health and safety of our patrons, we are 100 percent on board; but using government power to protect the interests of one business over another is a different matter.
Fines aren't fine
A food truck caught "dealing" cupcakes 199 feet from a restaurant would be subject to a ,000-,000 fine. Yet someone caught with less than half an ounce of marijuana only faces a fine of 0 to 0. Furthermore, under the Mayor's proposed ordinance, it's far less expensive to have a health code citation -- 0 to 0 -- than it is to park next to a restaurant. The fine structures illustrate that protecting the interests of a restaurant is more valuable to the city than the public's health and safety.
The 200 foot buffer zone that food trucks must observe around restaurants also includes coffee shops and convenience stores. By this standard, legal parking spots in the city's coveted downtown Loop area are nearly nonexistent.
The city has proposed food truck "stands" -- designated parking spots -- to help alleviate the burdens of the 200 foot rule. The ordinance would require a minimum of five truck stands in six community areas. In total there would be 60 spots throughout the city, and the 10 spots designated in the Loop would not be sufficient for the existing 55+ trucks and the up to 200 soon to enter the market, which will be clamoring for those coveted spots during the downtown lunch rush.
What GPS devices can't do
For the purpose of enforcing the 200 foot rule, the government-required GPS would allow the city to monitor and track our business. Imagine if you were told you had to wear an ankle bracelet at work to make sure you weren't doing anything other than working. The GPS device comes at our expense and at the expense of tax payers. The city will need to assign personnel to monitor and review the data being collected. Is this the best way to allocate city resources? We already use GPS-related devices and tools (e.g., Twitter) to alert customers of our location. We aren't hiding.
Customers are not the property of any one business; they cannot be stolen -- but they can be won. It is the responsibility of all business owners to win the loyalty and patronage of their customers. It is the responsibility of our government to enact rules and regulations that protect the health and safety of those patrons and encourage the growth of its business community -- both small and large.
Thirty-four years ago, my mother, pregnant with me and caring for my two-year-old brother, hid in the tiny belly of a fishing boat to flee a war-torn country. With 10 dollars in her pocket, she wanted a better life for herself and her family. She wanted the opportunity and freedom to choose who she would become. She worked three jobs to save enough money to open her own line of restaurants. It was in those restaurants that I learned the commitment, the sacrifice and the hard work it would take to become an entrepreneur. All that I ask from Mayor Emanuel and the city council, is to give my fellow food truck owners and me the same opportunity to grow our businesses and contribute to the amazing culinary community that already thrives in Chicago.
John Keebler, founding member of the Illinois Food Truck Association, and Tiffany Kurtz, co-owner of Flirty Cupcakes, contributed to this piece.
Step
3
POST DEBATE POLL
Did one of the arguments change your mind?
The new, mayor-endorsed ordinance will help make it easier for food trucks to do business in Chicago.
VIEW DEBATE ROUND 1 RESULTS
Agree - Thanks for voting again! Here are the results:
moreless AgreeDisagreeUndecided
"Agree"Amy LeNeither argumenthas changed the most minds