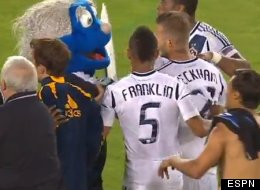 By Jose Martinez, Complex Sports

During the 91st minute of the Los Angeles Galaxy's 4-3 loss to San Jose, the Quakes' Sam Cronin went through the typical soccer player routine and attempted to fake an injury until the game was near its completion.
Privy to those type of games, David Beckham kicked the ball at Cronin and the supposedly injured midfielder shot up and confronted Becks. After that gesture, Beckham made his fair share of opponents, including, for a brief couple of seconds, the team's mascot! Check out the video for that one.
It wouldn't be too far-fetched to think that some of this frustration may be towards not making England's Olympic soccer team, no?   
[via Larry Brown Sports; SportsGrid]
CORRECTION:
The final score of the game has been amended.