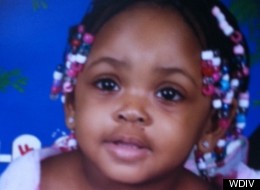 Detroit Police are investigating the case of a missing one-year-old baby girl found dead in the closet of her grandmother's home.
Mother Erica James dropped off baby Zyia Turner and two siblings at her paternal grandmother's house the night before her medical appointment on Friday. The grandmother left the three children in the care of an uncle while she ran errands.
By 4:30 p.m on Friday,, according to the Detroit Free Press, the 17-month-old toddler was reported missing. Responding to a call, the Detroit Police Department first searched the grandmother's home, and then the surrounding neighborhood. But their efforts were stalled while the Detroit Police Department tried to locate a cadaver dog to assist in the search.
Zyia's body was found underneath a pile of clothes in a closet inside her grandmother's house by a Southfield Police Department cadaver dog around 1 a.m. Saturday morning.
Turner's grandmother, Bridget Elam, says she thinks her granddaughter's death was a terrible accident. She told WDIV that her son, who is being questioned by the police, did nothing wrong.
"My son who was watching them, he has helped raise all his nieces and nephews. He would never do anything to them," said Elam.
An autopsy is ongoing at the Wayne County Medical Examiner's Office. WDIV says toxicology reports could take weeks to complete.
Detroit Kids Caught In The Crossfire
Zyia Turner, age 17 months, was found dead underneath a pile of clothes in the closet of her grandmother's home in Detroit on June 30. According to news reports, it took hours for the Detroit Police Department to locate a cadaver dog to assist in the nine-hour search. An autopsy is pending.

A seven-year-old boy in Detroit was pronounced dead after hanging himself from his bunk bed on May 23. Described by a neighbor as a "cheerful young man," the boy's mother said he had been depressed after constant bullying and teasing at home and at school.

Kade'jah Davis, age 12, was murdered on Jan. 31 in her family's house on Ferguson Street, after an argument erupted over a cell phone between her mother and a young man, 19-year-old Joshua M. Brown. The young man fired five shots into the house, killing Kade'jah, who was finishing her homework for school the next day. Police arrested Brown and his mother, Heather Brown, who allegedly drove her son back to the home to do the deed. Brown had been issued an electronic tether for prior felonies that was never activated, according to records obtained by the Detroit Free Press.

A six-year-old boy was critically injured when a pair of 15-year-old carjackers fired shot into a car they were attempting to steal on Feb. 26. Devin Campbell and Leontay Welch were armed with an AK-47 when they began shooting at the automobile driven by the boy's mother and male friend along Balfour Street. It was Campbell and Welch's fourth carjacking of a day-long crime spree. The boy was shot several times in the lower back and legs.

When two cars crashed into a tree on Montgomery Street, on Detroit's West Side, the passengers began exchanging gunfire. Caught in the crossfire on March 12 was an unaware 12-year-old boy playing basketball. He was listed in serious condition after a stray bullet struck him in an artery.

A baby boy was killed when shooters peppered a house on Detroit's West Side with rounds from an AK-47 at 4:30 a.m. "It's actually amazing - an act of God - that more people in that house were not killed," said Detroit Police Chief Ralph Godbee. The motive? An argument over seating arrangements at Miller's upcoming baby shower. No arrests have been made.

Detroit police arrested a 35-year-old man an hour after he took off from Gilchrist Street near the Southfield Freeway, where he had accidentally shot a two-year-old boy in the hip. The man had fired shots during an argument with an 18-year-old.