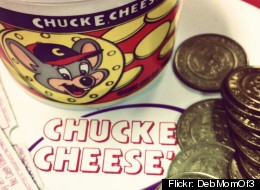 Jesus Christ will no longer be coming to you through Chuck E. Cheese commercials.
Duncan Brannan, the actor that gave voice to that mouse-rat thing in the Chuck E. Cheese ads, was unceremoniously fired by the company that's employed him for 19 years, the Dallas Observer reports (h/t Gawker). Brannan realized that he had been replaced after listening to a commercial featuring the company's mascot with a voice he knew wasn't his.
It's all good though, because Brennan says he's certain in the knowledge that he was doing God's work while sending little children not-so-subliminal messages that they should go bug their parents to spend money on a day of ball pits and pizza. Brennan wrote in a note posted on showbizpizza.com (h/t Dallas Observer):
If being the voice of Chuck E. Cheese for any length of time has meant anything to me, it was never about a paycheck because God will always provide for His children in one way or another. No. What it was about, what my sincere hope is that you -- you Fans, you parents, and all you kids who have loved Chuck E. Cheese over the years -- have seen, heard, or experienced Jesus Christ in and through my life in some way.
The odd circumstances of the firing is just the latest in a slew of stories to bring some strange attention to Chuck E. Cheese's. One mascot at a Chuck E. Cheese in Las Cruces, New Mexico, outraged a local family, after allegedly giving the finger in a photo with a child. In addition, the Department of Labor fined nine San Francisco-area Chuck E. Cheeses last year claiming they forced 16 young workers to operate trash compactors illegally.
Brennan isn't the first famous commercial voice to get the axe, nor will he be the last. Lance Baxter, the man behind the Geico gecko, was
fired by the company in April 2010
after he left a message with a Tea Party-affiliated organization asking how many "mentally retarded" people it had on staff. Another insurance giant,
Aflac, fired comedian Gilbert Gottfried
, who voiced the company's famous duck, after he tweeted jokes about the Japan earthquake and tsunami.