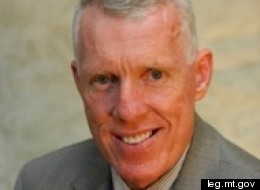 A Tea Party lawmaker in Montana said the relocation of 60 bison -- which he blamed on Walt Disney's creation of "Bambi" -- could lead to gas jumping to $25 a gallon as part of a liberal federal government plot.
Rep. Krayton Kerns (R-Laurel) used a posting on his blog, "Ramblings of a Conservative Cow Doctor," to outline what he said was a four-part plan by the federal government to protect bison while leading to dramatic gas price hikes. Kerns, a three-term legislator and veterinarian, is a frequent speaker at Tea Party gatherings throughout Montana.
Kerns said the moving of 60 bison from Yellowstone National Park to the Fort Peck Native American Reservation this winter is part of "a four step process to crush the republic and bring our populace into perfect dependence on big government -- just as Karl Marx dreamed." He said the first part involved Walt Disney's creation of the popular fictional deer "Bambi," which he said allowed people to raise the stature of animals and caused the teaching of the environment in schools, which he said stopped worship of God.
Kerns said the second step came from the federal government debating making the bison the national mammal, and changes to water conservation rules in Montana. He said this is why the federal government moved the bison to the reservation, which is located in the Missouri Breaks region of the Upper Plains.
Kerns then predicted the next two steps of the process, which would involve a rapid population growth of bison in the Missouri Breaks that will be higher than the gray wolf population. He said the thousands of bison, combined with unrest in the Middle East will lead to the gas price hike.
"The world's economy will grind to a halt due to instability in the Middle East driving the price of gasoline over $25 per gallon," Kerns wrote. "In desperation, America will attempt to develop the massive Bakken oil reserves of Montana and North Dakota only to learn a future leftist president has issued a moratorium on all oil exploration to protect the habitat of our national mammal, the noble, YNP-origin, American Bison. Think about it."
Kerns writes the columns weekly, with the posts appearing on his website, the Laurel Outlook and the Western Ag Reporter. Kerns' writings take a primarily Tea Party approach, with the legislator embracing Ron Paul's presidential candidacy and noting his travels to Tea Party rallies around Montana.
Planned Parenthood of Montana criticized Kerns in March for a blog posting in which he discussed Sandra Fluke's congressional testimony over contraception funding and a bulldog making $1,000 a month for "stud services" while he was in veterinary school. Kerns denied he was comparing Fluke to the bulldog in the post, according to the Billings Gazette.
On his website, Kerns argues against global warming and the minimum wage, and for the Second Amendment, states' rights and fatherhood. Kerns unsuccessully ran for Montana House speaker in 2010 on a platform of battling the federal government on such issues as wolves and immigration.
"In all of this, the states need to stand up," the Billings Gazette reported Kerns as saying at the time. "So far the states have been the battered spouse of the federal government."
Tea Party insurgent Christine O'Donnell defeated GOP establishment candidate Mike Castle in Delaware's Republican Senate primary in 2010. O'Donnell lost in the state's general election contest to Democratic Sen. Chris Coons.

After serving six terms in the Senate, Indiana Republican Richard Lugar was defeated by Tea Party-backed Richard Mourdock in a primary contest in the 2012 election season.

Former Sen. Bob Bennett was ousted from his post at the 2010 Utah GOP Convention. Tea Party-backed Sen. Mike Lee currently holds Bennett's old seat.

Before winning another term in the 2010 midterm election, Sen. Lisa Murkowski was defeated by Tea Party-backed Joe Miller in Alaska's race for the Republican Senate nomination. Murkowski mounted a successful write-in campaign to keep her seat.

Tea Party-backed Sharron Angle crushed GOP establishment pick Sue Lowden's political ambitions in Nevada's GOP Senate primary in 2010. Angle proved unsuccessful in her bid to unseat Senate Majority Leader Harry Reid in the general election.

GOP establishment candidate Jane Norton was defeated by Tea Party-backed Ken Buck in Colorado's 2010 Senate GOP primary. Buck ultimately proved unsuccessful in his bid to unseat Democratic Sen. Michael Bennet.

Former Florida Gov. Charlie Crist, who ran for Senate as an independent after beginning his campaign as a Republican in 2010, ultimately fell short in his political operation. Tea Party-backed Marco Rubio defeated Christ and Democrat Kendrick Meek in Florida's Senate general election match-up.