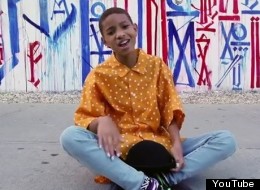 Willow Smith is showing off her vulnerable side in her new music video for "I Am Me," the pre-teen singer's latest song. Unlike her previous efforts, however, "I Am Me" is an inspirational ballad for all of the 11-year-olds (OK, and adults too) who are a little left of center. She's just trying to be fre-eeee, you know?
"It's just explaining who I am and what symbolizes me-like me as an energy, me as a person, just cool and rounded," the 11-year-old superstar explained to Global Grind.
When Willow released "Whip My Hair" in 2010, the mega-cute offspring of Will Smith and Jada Pinkett Smith was dubbed "baby Rihanna". She was then signed to Jay-Z's Roc Nation. Unfortunately, after the commercial failure of her third single -- "Fireball," featuring Nicki Minaj -- he album was reportedly pushed back to a late 2012 release.
The pint-sized singer has been criticized for some of her recent style choices. Willow debuted a new short 'do in early February and then she took her bold coif to a whole new spectrum, dyeing it neon green in March. In June, Willow posted a picture via Instagram of herself and a friend showing off what looked to be real piercings. Willow posed with her mouth open and a silver ball on her tongue, and it had parents -- and her fans -- concerned. Thankfully just as the hoopla surrounding the pic reached a fever pitch, Willow admitted the piercing was just a hoax: "It's fake... Sorry," she added to the Instagram photo.
Could "I Am Me" be Willow's response to all of media attention she's received this past year? Or is it a secret homage to her father's Big Willie Style? That button-down shirt does look like it came directly out of The Fresh Prince's closet.
Watch Willow's "I Am Me," shot on the New York City High Line and in Washington Square Park, above. Tell us what you think in the comments. For your summertime enjoyment, check out Fresh Prince's best hits below.
for the Summertime

Wild Wild West - Will Smith

DJ Jazzy Jeff & the Fresh Prince

Music video by DJ Jazzy Jeff & The Fresh Prince performing Parents Just Don't Understand. (C) 1988 Zomba Recording LLC

Music video by Will Smith performing Switch. (C) 2004 Interscope Records

Music video by Will Smith performing Just The Two Of Us. YouTube view counts pre-VEVO: 3779226 (C) 1997 SONY BMG MUSIC ENTERTAINMENT

"Men in black" performed by Will Smith [high quality] Album: Big Willie Style (1997) www.willsmithfanclub.com Copyright Sony/WMG About: "Men in Black" is a song by Will Smith (featuring singer Coko from double diamond selling group SWV) from the movie Men in Black, in which he also starred. The song plays during the movie's closing credits. Will Smith raps about how the MiBs "Walk in shadow, move in silence" and play the role of "first, last and only line of defense, against the worst scum of the universe", while Coko adds her soulful soprano vocals in the background. The song won Smith a Grammy in 1998 for Best Rap Solo Performance.

Music video by Will Smith;Jada Pinkett Smith performing 1000 Kisses. (C) 2002 SONY BMG MUSIC ENTERTAINMENT

Will, Carlton and Helen singing while Uncle Phil and Aunt Viv make up

www.bbc.co.uk Among the guests on Graham's sofa are Hollywood star Will Smith, who stars in new film Men in Black III; Take That's Gary Barlow, who is discussing the Jubilee Celebration Concert; and music legend Sir Tom Jones.