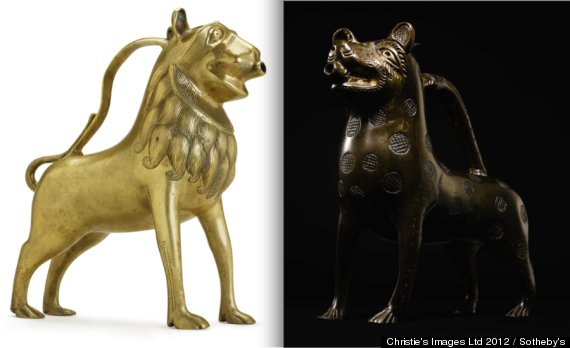 After perusing the lists of items about to hit the auction chopping block this week, we came across a battle royale occurring across the Atlantic Ocean. That's right, two similar pieces are about it to duke it out under the gavel, one at Sotheby's in London and the other at Christie's in New York City. They're small in size, but mighty in their ability to attract large bids; they're aquamaniles. Little water-baring vessels made to look like lions and leopards used by the upper classes when a boring jug just didn't suffice. So for all you auction hunters out there, if the good ol' sink isn't cutting it for you or you're a collector of fine sculptural pieces depicting the big cat family, this is your week.
Here's the rundown: The two opposing aquamaniles measure in at under a foot, both originating in the decadent times of the 13th and 14th centuries, a period in which wealthy people in Lower Saxony apparently made it a point to wash their hands in medievally ridiculous style. The first piece, on the auction block today at Sotheby's, is a copper alloy leopard estimated to sell between £400,000 and £600,000 (that puts it right under $1 million). The leopard's auction rival is a bronze lion set for bidding on July 6th at Christie's that rolls in at an estimated selling price between £150,000 and £250,000 (closer to a high end of $400,000). Looking almost identical in appearance and possessing similarly low levels of actual functionality, we are expecting a close race.
So if price isn't an issue -- and let's be fair, if you are even considering buying one of these extravagant hand-washing devices we imagine that money is the last thing on your mind -- how does one decide between the two glorified watering cans? Well, according to Sotheby's, the spotted leopard design is pretty rare as far as the whole aquamaniles-made-to-look-like-ferocious-predators goes. But Christie's does provide hefty detail's of its lion's provenance, dating it back to people with interesting names like Caspar and Frederica. Ultimately, we are swayed by the elaborate tale inserted into the catalogue notes at Sotheby's that outlines the story of a leopard cunningly outwitting none other than a lion. We like the competitive edge, Sotheby's.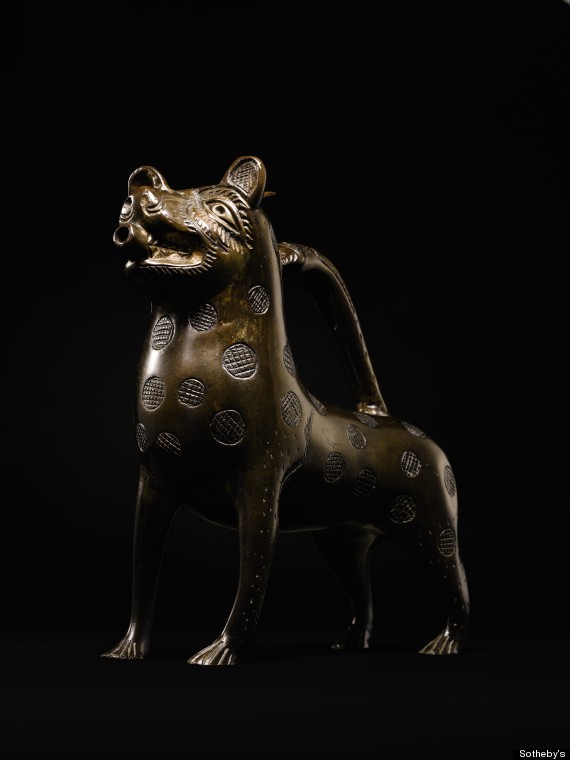 LOT 16, PROPERTY OF AN IMPORTANT EUROPEAN PRIVATE COLLECTOR, GERMAN, LOWER SAXONY, PROBABLY HILDESHEIM, MID-13TH CENTURY LEOPARD AQUAMANILE, copper alloy, 27 by 29cm., 10 5/8 by 11 3/8 in.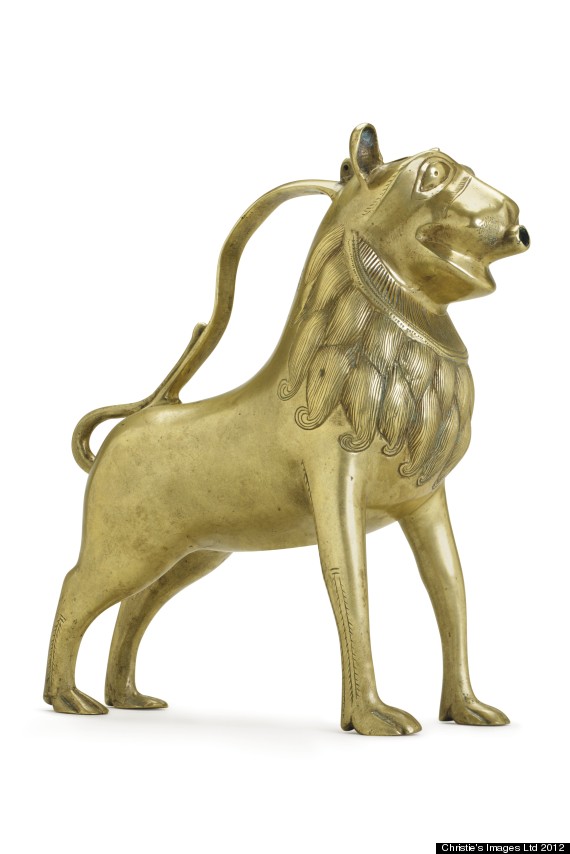 A BRONZE AQUAMANILE IN THE FORM OF A LION GERMAN, LOWER SAXONY, LATE 13TH OR EARLY 14TH CENTURY, Depicted standing, with a hinged lid, probably later, to the top of the head, a spout emanating from the mouth, 9 7/8 in. (25 cm.) high; 10 in. (25.5 cm.) long; 4 in. (10 cm.) wide
SUBSCRIBE TO & FOLLOW CULTURE SHIFT
Every Friday, HuffPost's Culture Shift newsletter helps you figure out which books you should read, art you should check out, movies you should watch and music should listen to. Learn more