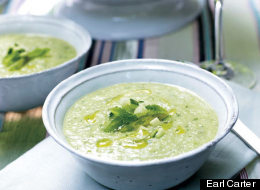 Gazpacho is one of our favorite things about summer. One of the best things about this chilled, Spanish soup is just how many different ways you can make it. Red, green, white, golden -- the possibilities are almost endless, with a little imagination.
You can serve this soup as just about any course of the meal, as well: we love it as an hors d'oeuvre in large shot glasses or punch cups, as a classic first course, or as a main course, loaded up with veggies and a healthy side of crusty bread. You want to get crazy and serve fruit gazpacho for dessert? Don't let us stop you. Just be sure to send us a picture!
Get the Chilled Gazpacho recipe This straightforward and classic gazpacho will always be a crowd pleaser. The magic trick of how the bread and olive oil emulsify into a rich, silky soup will never get old for us.

Get the Tangy Green Zebra Gazpacho recipe This bright green version gets its velvety texture from pureed avocado -- one of our favorite ways to add butter that is not actually butter to a recipe.

Get the White Gazpacho recipe The combination of almonds and grapes is traditional for white gazpacho. This version gets a delicious -- if not totally authentic -- kick from the addition of yogurt. We love to use greek yogurt for the extra tang it provides.

Get the Grilled Tomato Gazpacho recipe Grilling the tomatoes and peppers for this gazpacho adds a layer of smokey flavor and richness that tastes like summer in a bowl.

Get the Golden Gazpacho recipe The sweetness of the yellow and orange tomatoes and peppers in this gazpacho make it sweet and bright. This is a perfect use for those first-of-the-season tomatoes popping into your farmer's market.

Get the Cucumber Grape Gazpacho recipe Chef Sam Talbot's cooling, dairy-free white gazpacho is the perfect beginning to an elegant summer cocktail party.

Get the Tomatillo Gazpacho recipe The bright acidity of the tomatillos in this gazpacho are tempered by rich avocado and tender shrimp. With leafy salad and plenty of grilled bread, this makes a light and satisfying summer dinner.

Get the Watermelon Gazpacho recipe Watermelon's juicy flesh and crisp texture make it an amazing substitute for tomatoes in this gazpacho. We love how the flavors of the watermelon and cucumber intermingle and make each other tastier.

Get the Chunky Gazpacho Sauce recipe Okay, okay -- this isn't a soup, you're thinking. No, but it does have all the best flavors of gazpacho in a sauce you can spoon onto all kinds of things. Just think of how delicious this will be spooned onto a thick, grilled steak. Or sandwiched with a burger and some melty manchego. We told you, endless possibilities.