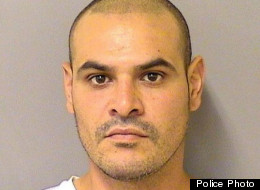 A suburban Chicago father was arrested Friday and charged with leaving his two toddler sons in a hot car on an 80-degree day while he drank and did cocaine.
Gerardo Oruzco, 35, of Cicero, allegedly left his 1- and 3-year-old sons strapped in car seats in the 1600 block of South Laramie while he went to a bar nearby to drink and do drugs with a woman, the Chicago Sun-Times reports.
He was arrested after a passerby saw the children inside the car.
NBC Chicago reports that the two boys were treated for dehydration. Oruzco was ordered held on $250,000 bail Sunday.
Oruzco's arrest recalls that of Jessica Christian, a Texas woman, who allegedly left her 2-year-old child in a hot car while she went to a restaurant to drink margaritas earlier this year.
Leaving children trapped in a hot car is dangerous -- and sometimes deadly. Some 500 children have reportedly died of heat stroke in the United States as a result of being left alone in a vehicle since 1998.