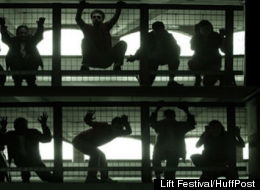 Live performance is a medium unlike any other. It may not be able to compete with the heavily funded computerized special effects of films, or the ever-continuing storylines of television shows -- theater is live. No play will ever be performed the same way twice.
To us here at HuffPost Culture, there's something magical about the aliveness of each performance. It is exhilarating to watch a story unfold before your eyes at a moment in time that both audience member and character exist in together.
That's why when a production breaks the fourth wall -- immersing audience members fully and completely in the world of the play -- there are no limits. The world has seen an influx of these types of plays recently -- take the throngs of people who have flocked to the wildly popular "Sleep No More," covering NYC in a sea of white masks. But Punchdrunk's "Sleep No More" isn't the first, nor the last site-specific interactive performance piece.
In 2003, Deborah Warner's interactive performance, "The Angel Project" was staged throughout Manhattan and opened the Lincoln Center Festival. Later this month, the cult show/ride "You Me Bum Bum Train," a one-on-one theater experience, opens for its second run in London.
Take a look through the slideshow below for other experimental works that break the fourth wall. All of the plays featured are bold, jarring, and immerse the audience in the landscape of the show. And feel free to let us know what we missed in the comments.
10 Interactive Theater Productions That Rethink The Stage
'Katrina' is a play written by British playwright Jonathan Holmes which premiered in London in 2009. The play centered around the devastation of Hurricane Katrina and was set in an abandoned warehouse on the Thames river. The warehouse was made to "feel" like New Orleans both before and after the catastrophe. Audience members were ushered throughout the many floors of the warehouse, with each floor encompassing a different setting. As the playwright remarked in an interview , "With Katrina, it is the scale of the thing that is so difficult to appreciate, so it's important to give a precise and evocative account of what it means when this happens to a big western city."

'You Once Said Yes,' is a British play that places the audience member in the center of the action. The production is from the Look Left Look Right company and is written by Morgan Lloyd Malcolm and Katie Lyons. The action takes place over a sprawl of blocks in Camden and begins as follows: audience members arrive to the neighborhood and are brought in to a storage capsule where they are given a backpack filled with items to use during the play. Then the audience member is told one direction, "Turn right." As a New York Times reviewer notes, the play is "designed to be a hopeful experience, which asks you to value the benefits of keeping your mind and eyes open."

'Sleep No More' is crafted by the ingenious site specific theatre company Punchdrunk. The production, which is currently running in Manhattan, is set over three sprawling floors of an abandoned warehouse on West 27th Street. 'Sleep No More' is an adaptation of 'Macbeth' that contains no dialogue but a lot of dance and movement. Think 'Macbeth' crossed with Stanley Kubrick and Alfred Hitchcock. Audience members are encouraged to follow characters of their choosing throughout the three floors, encountering various scenes as they wander.

In 1998, Blast Theory, a British theatre company launched a lottery in which the winners had a chance to be kidnapped in a performance piece. Two people were taken prisoner for 48 hours while they were filmed in a locked room for a live broadcast online.

'You Me Bum Bum Train' is an experimental piece of one-on-one theatre. It was created by Kate Bond and Morgan Lloyd in the UK and features a cast of about 200 actors. The creators prefer that the piece be thought of as a ride and less of a show. Wheelchairs transport audience members who are staggered individually through a maze of rooms, each with its own setting. At one point you might be an American football coaching your team to victory, next you're a musician about to jump into the arms of adoring fans. As a reviewer in the New York Times notes, "though you may be at the center of things, you are never in control."

Iranian theater maker Hamid Pourazari brings his incredibly bold style to the Lift Festival in London this summer. His play, 'Unfinished Dream,' commissioned by Lift, is a collaboration with Perpanata Theatre Company and follows refugees and local residents in London's Croydon neighborhood. Through "poetic storytelling and inventive promenade performance, Hamid will reveal some of the hidden and moving stories of refugees whose lives are currently in limbo." The majority of the play takes place in a parking lot in Croydon.

'The Tenant' was put on by the Woodshed Collective last summer in New York City. The company performed a 1964 novella by Roland Topor that was staged in an abandoned West-Park Presbyterian church. Woodshed used all five floors of the building for their production and audience members were encouraged to follow one set of characters throughout the building or bounce around individually from floor to floor.

'The Angel Project,' directed by Deborah Warner is a walking tour of New York City and was the opening event for the Lincoln Center Festival's 2003 season. A New York Times review of the production lays it out as follows, "A solitary trip, via foot and subway, that takes you from Roosevelt Island into often seedy buildings in Midtown Manhattan, with your only company a guidebook that quotes 'Paradise Lost'." The production is reminiscent of a 1988 play by Fiona Templeton that also takes place in New York City for an audience of one in which the audience member meets a series of individuals, all who claim to know something about "you."

'Houseworks' was commissioned by the London International Festival in 1996 for Out of Lift. This site-specific and immersive production is particularly unique because it is designed for children under the age of 5, but anyone of any age group would be struck by the sheer creativity of the production. Set in an old house in Brixton England, each room of the house represents a different world. An old puppet woman greets audience members into the home and then small groups are guided throughout the home--encountering puppets, performers and installations. For example, in the upside down room all the furniture hangs from the ceiling; in the string room hundreds of pieces of string hang from the ceiling, and in the blue room a little man dives into the magical 'ocean' and swims amongst the audience members.

Lebanese filmmaker and theater director Lucien Bourjeily brings his newest work, '66 Minutes in Damascus' to the LIFT festival in London this summer. In the play the audience, doubling as tourists, are arrested by the Syrian secret service.