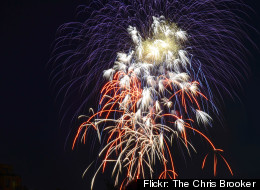 Nothing says Fourth of July like an enormous fireworks display, one that tops last year's crowd-pleaser and fills your body with pride. Sadly, that might be tough this year.
Local budget cuts, recent power outages and new wildfire regulations have reportedly put the fireworks industry in a bit of a pickle, pushing it into a slump not seen since the Vietnam War.
All told, 70 percent of firework shows will be off limits to ordinary Americans this year, set at exclusive events in places like the Hamptons, according to Fireworks by Grucci, one of America's top fireworks firms.
There should still be plenty of explosion for the rest of us though. About 14,000 displays costing $217 million in total will light up across the country Wednesday.
Check out "The Complete Guide to July 4th Fireworks" from the tax preparation company H&R Block:Click image to see a larger version
The Complete Guide to 4th of July Fireworks via H&R Block