 Every Pixar enthusiast knows to be on the lookout for one of the animation studio's oldest traditions while watching a Pixar film: easter eggs. These eggs, otherwise known as hidden gems, are little references to movies and characters from the studio's past and future.
Pixar fans flocked to theaters to see "Brave," the studio's first foray into fairytales with a female protagonist, Princess Merida. When Merida is forced to choose a suitor by her mother, she runs away into the forest, where she happens to find a witch.
The Witch is an old woman disguised as a woodcarver specializing in whittling wooden bear figurines. She conjures haphazard spells which were not of much help to Merida, but as we can see from this photo, she does have a mysterious knowledge of the future. Look closely, and you'll see a carved figurine of the infamous Pizza Planet truck. For those fair-weather Pixar fans, the Pizza Planet truck has appeared in nearly every full-length feature film from the animation studio since 1995's "Toy Story."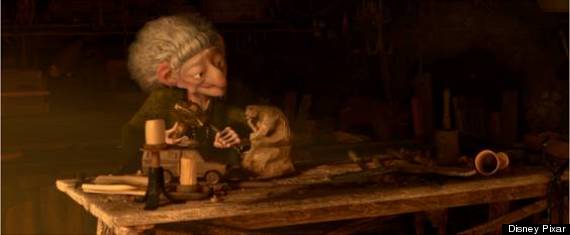 Now for some of you, that may have been easy to spot, but did you know that one of the monsters from Pixar's next film, 2013's "Monsters University" -- the highly anticipated prequel to "Monsters, Inc." -- was also hiding in The Witch's cabin?
A carving of Sulley, the lovable blue monster, voiced by John Goodman, appears on a piece of wood in The Witch's home. It's a blink and you'll miss it moment, but check out the photographic evidence below.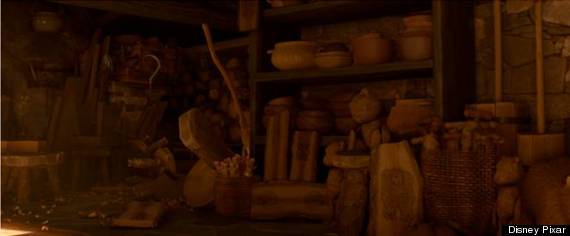 Below, check out HuffPost Entertainment's easter egg slideshow and contribute with slides of your favorite Pixar easter eggs!
Pixar's Favorite Easter Eggs
Appearing in almost every Pixar feature film, The Pizza Planet Truck, first spotted in "Toy Story" and shown here in "Wall-E," is one of the most ubiquitous yet hardest to spot of Pixar's many easter eggs. Eagle-eyed viewers may have also seen it in "Brave."

Arguably the most identifiably Pixar easter egg, the yellow ball adorned with a blue stripe and a red star, known as the Luxo Ball because of its original appearance in the short film "Luxo Jr.", has made its way into no less than 11 Pixar films and shorts including "Toy Story 3."

Perhaps the only thing Pixar loves more than the Pizza Planet Truck, John Ratzenberger has voiced a character in every Pixar film. Lovingly referred to by Pixar's chief creative officer, John Lasseter, as the studio's "good luck charm", some of Ratzenberger most famous roles include Hamm from the "Toy Story" films and P.T. Flea in "A Bug's Life."

The code A113 (pronounced A1-13) has also appeared in almost every Pixar film. Though seemingly random at first, the code was the classroom number used by the character animation students at the California Institute of the Arts where many of Pixar's chief animators studied. Look closely for the code in "Monsters Inc." Apparently, that's the only feature film to explicitly feature the classroom number.

Though most audience members were too busy crying at the end of "Monsters Inc." to notice anything suspicious, those who could see past their own tears watched Boo give away three of her favorite toys to Scully. The toys were the Luxo Ball, Jessie the Cowgirl doll from "Toy Story 2," and a Nemo toy from the yet to be released "Finding Nemo."

Pixar may love inside jokes and easter eggs, but that doesn't mean the studio doesn't throw in a pop culture reference every now and then. Check out this still from "Toy Story" featuring a Binford Tools toolbox -- the same toolbox used by actor, and voice of Buzz Lightyear, Tim Allen on his show "Home Improvement."

The studio's next movie, "A Bug's Life," stealthily payed homage to Disney's beloved film, "Dumbo". The wagon that transported P.T. Flea's Circus was an empty Casey Ford Jr. cookie box, named after the train that transported the Dumbo's circus in the 1941 Disney film.

We can only wonder if the late Steve Jobs, an owner of Pixar and executive producer of "Toy Story," noticed this egg: a race car -- sponsored by Apple -- in the film "Cars."

Look carefully, in the Pixar short "Day and Night," the "Day" character can be seen watching an old Western film. This is actually the same Western film that the dalmatian puppies from Disney's "101 Dalmatians" watch on their television screen.