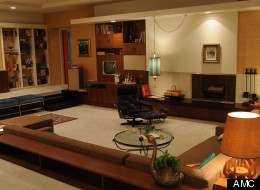 There's no place like (a wealthy TV character's) home.
Some small screen abodes have incredible locations, others have impeccable decor, others have spaciousness and a few have all three. A July 4th visit to the Grayson's beachfront house in the Hamptons on "Revenge", a week at Derek's apartment on "Smash" and a life-time stay at Downton Abbey would all be a dream come true.
The HuffPost TV Staff has compiled a list of the TV homes that real estate agents dream about and that we wish we could stay in.
From Don and Megan's "Mad Men" apartment to "The Beverly Hillbillies" mansion, here are the TV homes we wish we could vacation at:
TV Homes We Wish We Could Stay In
Being a Grayson might not always be easy, but it does have its perks. The "Revenge" power family's Hamptons beach-front property that's well-decorated, vast and has a balcony perfectly located for spying on what your son's girlfriend/fiancee/ex-girlfriend is up to. We'll take it without Nolan's whale-shaped surveillance camera, though.

The fashionable Don Draper has an even more fashionable Upper East Side apartment in New York City. We love the sunken living room, built-in shelves, white carpeting and openness of the apartment. We hope Don and Megan last so that this apartment becomes a fixture on the AMC drama.

Sure, the swimming pools and movie stars were a big draw, but the Clampbetts' California mansion wasn't just a dream come true for the out-of-towners ... it was for "Beverly Hillbillies" viewers as well.

Exposed brick, colorful wall decorations, and a really comfortable-looking oversized couch are three of the many reasons we love Jess and the gang's apartment in "New Girl." Maybe it's not perfect, but it has so much character, not to mention space for playing True American.

We love Blair's Upper East Side apartment for three reasons: location, location, location. Dorota, Blair's adorable and hilarious live-in maid, is just icing on the cake.

Downton Abbey, the Earl of Grantham's large English castle, has housed wounded soldiers, a dead Turkish diplomat and a (mostly) lovable staff. Admittedly, Downton symbolizes the unfairness of inherited wealth in the early 20th century, but if we owned Downton, we'd make sure it was always decorated like it was in the Christmas special.

Though things didn't work out for Charlotte York and Trey MacDougal, she wasn't left empty-handed. Charlotte got the family's Park Avenue apartment in the divorce settlement and really, who wouldn't be happy with that? The space is so gorgeous, it was featured in Home and Garden magazine.

The Ewing's ranch is a dream with green pastures, white fences and Texas weather. It's almost enough to make us consider being a part of the dysfunctional Ewing family.

As a theater director, it's debatable whether Derek on "Smash" would be able to afford his expansive New York City apartment. But it's hard to focus on the details thanks to the breathtaking views.

Aaron Spellings' '80s drama revolved around the Carringtons, a wealthy oil family living in Denver. The Carrington patriarch was powerful oil tycoon Blake Carrington (John Forsythe) and his home was to die for. The iconic opening image of the 48-room mansion was actually the Filoli estate in Woodside, California. But the infamous lily pond cat fight between Alexis (Joan Collins) and Krystle (Linda Evans)? That took place at a 17-room Palladian house called Arden Villa.

Naomi's home is more than impressive with its tower-like facade. Complete with a pool, palm trees and hedges lining it for privacy, this "90210" mansion is a West Coast paradise that we'd love to stay at.

Considering how difficult it is to get to the incredible Eyrie, the House of Arryn's principal stronghold on "Game of Thrones," we'd never want to leave. And especially not through the Moon Door. In fact, we'd probably close that up for good.