What Happens When An Anti-Tax Movement Meets A Fire?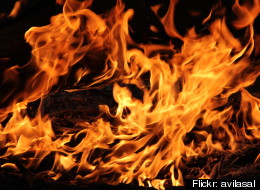 As Colorado Springs battles a rash of burglaries after a wildfire that still licks at its boundaries, it does so with fewer police and firefighters.
The city where the Waldo Canyon fire destroyed 346 homes and forced more than 34,000 residents to evacuate turned off one-third of its streetlights two years ago, halted park maintenance and cut services to close a $28 million budget gap after sales-tax revenue plummeted and voters rejected a property-tax increase.