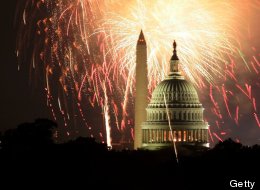 The 1812 Overture is routinely incorporated into July 4th celebrations and fireworks displays.
While many Americans have come to associate the music with Independence Day, NPR notes:
Pyotr Ilyich Tchaikovsky wrote his piece The Year 1812, Festival Overture in E flat major in commemoration of the Russian Army's successful defense of Moscow against Napoleon's advancing troops at the Battle of Borodino.
Listen to a clip of the 1812 Overture above.
Fourth Of July Celebrated By Animals
This dog is twice as patriotic as you.

This cat sleeps in red, white and blue.

He's bringing back pride.

Who says being patriotic can't be adorable?

Walk soft...

We couldn't have said it better ourselves.

This dog is ready to go and make it a star-spangled day.

This dog's patriotic 'tude is to be commended.

Sometimes you have to shout your pride.

Commemorating the world's most patriotic dog.

This dog wants YOU... to join the party.

The decorum shown here is tremendous.

Nothing more American than a cat nap.

If you can get this outfit on your bird, you're more patriotic than every single other American.

Take that dogs and cats.