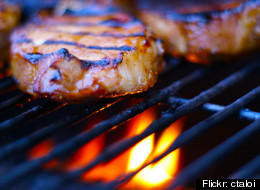 While Chef Les Molnar doesn't make house calls, he does have some professional advice to offer any brave soul firing up the grill for a cookout this sweltering (and potentially rainy) Independence Day.
Molnar is the man in front of the stove at Green Dot Stables, which opened in April in the Corktown neighborhood of Detroit after the previous owners closed their dive bar. Now, new owners Jacques and Christine Driscoll have taken it up a notch, serving an ultra-affordable menu of innovative sliders, sides and fries, with many ingredients sourced locally, along with tasty brews and cocktails.
The sliders at Green Dot Stables stray far from the ordinary, everything from au poivre to a take on PB and J, but Molnar also has advice for the classic burger.
"The simpler, the better," he said.

Green Dot Stables is closed for the Fourth of July holiday but will be back to regular hours the following day. Below, check out some more grilling tips from Molnar.
Green Dot Stables Chef Les Molnar Offers Grilling Tips For 4th Of July
When it comes to beef burgers, Molnar says he doesn't like to get hung up on healthy options. "On a day like the Fourth of July, I prefer ground chuck, a fatter cut of meat to indulge in," he said. If you're following Green Dot's lead and making sliders, he recommends making the patties in advance. You can use tinfoil on the grill to keep the smaller burgers from falling apart. For more burger tips, see HuffPost Food. Flickr photo by Yogma.

If you're branching out from burgers and hot dogs and grilling chicken, ribs or pork, Molnar recommends taking a couple extra minutes to brine the meat. Marinate cuts ahead of time with a solution of water, sugar and salt, which can also be infused with spices or herbs. "It really makes all the difference on the grill. You can beat it to a pulp and it will still be juicy," Molnar explained. Flickr photo by ctaloi.

For some guidance on getting creative in the kitchen, Molnar says it's key to have a "gooey" element to a burger. You can turn sauces and dips into burger spreads. For something traditional, go with a mayo base, but you can also use things like hummus, sweet potato mash or tzatziki sauce, flavors you may find on the Green Dot menu. Or even peanut butter -- Molnar uses it on the Korean slider with beef and kimchi. He says it pairs well with Asian flavors, which tend to clash with dairy. Flickr photo by jules:stonesoup.

Molnar says bright flavors are good for summer. Try lime or orange to lighten up a main course. He also says mixing unlike flavors and textures will yield good results, like pairing sweet and salty, crunchy and soft. "You'll have a winning combination," he says. Flickr photo by BlueberryFiles.

If you're looking for some sides to go with the grilled main course, Molnar says he's been enamored with a Moroccan carrot salad, which doesn't require cooking and can be made quickly with pre-shredded carrots, apple sticks, golden raisins, toasted almonds (or any kind of nut), mint and cilantro. Toss all the ingredients with aioli or a mayo-based sauce and sherry vinegar. Flickr photo by various brennemans.

If you're vegetarian, check out non-meat grilling recipes from Kitchen Daily, including grilled eggplant cannelloni and minted tomato, onion and glazed tofu kebabs. Flickr photo by Maya83.

Starting a charcoal grill is easy, so follow along and you'll be grilling in no time.

Grilled peaches are a tasty way to end a barbecue.
Flickr photo by ctaloi.