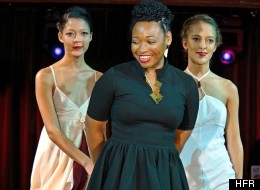 September is right around the corner, which means that New York Fashion Week is as well.
So while everyone is soaking up the summer sun, fashion designers are in the thick of pulling together their Spring 2013 collections.
And although we're excited to see all the fab Spring trends, this season is extra special since it marks the fifth anniversary of Harlem's Fashion Row--the premiere organization championing the careers and success of black fashion designers.
In celebration of this milestone Brandice Henderson, founder and CEO of HFR, ramping up the organization's annual fashion show.
To make sure the best of the best designs are showcased, Henderson assembled a panel of industry-insider judges last month to meet, review and deliberate over a group of talented designers all vying for a spot on the catwalk.
Judges included: Fern Mallis (known to most as the creator of "Fashion Week" in New York City and loved by fashion fans the world over), Shawn Outler (Macy's VP of Fashion Forecasting & Operations, Leased Businesses and Multicultural Development), Memsor Kamarake (renowned stylist and fashion editor) and our very own Huffington Post Black Voices style and beauty editor, Julee Wilson.
We'll reveal the four amazing winners this coming Monday (July 9th), but thought it would be fun to see who you would pick to star in the show.
Check out the designers and a look at some of their threads in the slideshow below--and make sure to tell us who you love (vote for multiple favs).
Harlem's Fashion Row Designers
Brooklyn's own Latisha Daring is a powerhouse and her brand of fashion is a family affair. Before celebrating the ten-year anniversary of her edgy boutique, Pieces, she debuted her own private label, Ashtyn, which is named for her daughter. From selling designer clothes out of the trunk of her car to preparing Ashtyn's Spring 2012 collection for London Fashion Week, Latisha's allowed her bold spirit to lead her to other stylish women in search of fly and fabulous threads. With strong support from her family and years of experience in buying and production under her belt, Latisha continues to step out on faith with her family in tow. As she sets out to alter her legacy once again, Latisha shared some thoughts about her 'amazing' experience with the HFR 2007 show, "It expanded our market and was incredible networking. As people of color it was refreshing to see so much talent in one room. I am sure that HFR has grown and developed to be more of an impressive showcase since then, but we were delighted to be a part of such a groundbreaking concept."

Fashion has always been my shelter, the place I find a home in whenever I feel happy, uneasy, sad, or even-keeled. When it is time to express myself, fashion is the vocabulary that I use. In the Sukeina Collection, the colors are vivid, while the fabrics are delicate, lush and elegant. My designs tend to be very happy, flirty, and playful, mimicking nature, feathers, wings, or movement in the deep ocean. I must confess, my musings don't always come from happy places, in fact, my biggest inspiration is sadness, tears, and melancholy, things that are sad but whole. These visions send my mind to a place I almost wish I could escape; it's there I can fantasize about building a life, putting visions together. That's when the craftsmanship of a collection really comes together. I was born in Dakar, in the Republic of Senegal; my childhood was spent traveling to various countries in Europe. Sukeina is actually named after my late mother. She passed away when I was young. Her spirit and light has been an inspiration, and driving force in all that I do, especially in my designs. She looked past the obvious, and saw something different and deeper, more beautiful in everything. Almost as if she could see the future, the potential and the growth in everything and everyone. The designs of Sukeina are named after that perspective and outlook -the idea that everything is always in mutation, ever evolving, and becoming new. Starting off wanting to be a screenwriter I went to Old Dominion in the State of Virginia. In less than two years, it became more and more obvious, that fashion was my calling. If screenwriting was a voice; it seemed that I could express myself with more clarity in fashion. I had a vision, a point of view that needed to be expressed in this industry. That's when I decided to transfer to Parsons. In 2001, I started working for world-renowned French fashion designer Madame Sonia Rykiel. Working for her was my first meaningful job in the business. She was at the finale of her career, and I was at the beginning of mine. One sentence was enough for this legend to set my career free, when she, with a smile, said to my boss, "Let Omar play; it should remain a game." Starting off in Sales, I would later be promoted to Merchandising, and finally become Visual Director for the New York City branch. After seven years of learning the creative, but also business side from merchandising configuration, to window implementations, running stores, show room market, trunk show settings, product development, and marketing campaigns, it was with great nostalgia that seven years later I was leaving Madame Rykiel for a new job offer with Christian Lacroix, as Floor Manager and Visual Director for two years. In 2008, I decided to tempt fate, closing one door to open another. It finally felt right to spread my wings and establish my own House. I fully engage myself in my vision and designs. My creations are to celebrate what we all enjoy about our bodies and life. I truly must be honest; I want to dress people with in mind all that they can be, not just what they are. My clothes are made to move with a woman, to highlight her inner spirit. Without a body in them, they are nothing. Sukeina in itself means bright light. To me Sukeina is the medium through which things come to a reality. Sukeina is a currency; it's a point of view; it's a vocabulary designed for all women to express themselves. I envision Sukeina on the street, in every woman's closet, on her body. I want it to be worn, to be related to, to become a new language, a new vocabulary. I want women to wear Sukeina because it makes them feel beautiful, empowered, but also comfortable at any given time in their lives. Going to bed with an idea, and waking up with a burning desire to see it crystalized, has gone from a child's dream to a necessity, a disposition, a way of life. The opportunity to be the voice that women will use to express what they are, where they are at, who they are and what they are feeling, is what we give words to, for her to tell her unique story. This is the craft that we take pride in, at Sukeina.

Shauntelé's designs combine the unique with the classic in respect of the modern woman's duality. Taking elegant risks with textiles and shapes, she's developed a formula to fuse multidimensional femininity and function in the alluring creation of versatile classics. She's been pegged "as a designer to watch...with flattering lines and a unique color palette" during a Bloomingdale's open call, while the collection has also been deemed "newsworthy" by the likes of Jorge Ramon, former fashion editor of Teen People. Women with powerful voices such as activist Majora Carter, Princess Ameerah and Ivanka Trump are drawn to the likewise empowering aesthetic of this fashion gem. Shauntelé is a New York native with the ability to combine her worldly experiences into refined creative expression. Even her younger days at the exclusive boarding school, Choate Rosemary Hall, found her pushing the fashion boundaries of prep to develop an ever-evolving, ever-eye catching style all her own. All grown up, Shauntelé's varied industry experiences, of having once worked in India to consulting designer brands on luxury European textiles, have enabled her with a unique set of talents. As a self-taught designer, Shauntelé embodies the Made in Midtown movement with a collection and a passion manufactured 100% in the heart of New York City's Garment Center. Tagline: "Shauntelé says listen "I am your armor, I will shine brightly as you challenge the world and remind you of the strength that lies in your femininity." Now welcome to your Shauntelé womanhood.


At the tender age of 5, Chantell Walters set her sights at becoming a fashion designer and that is exactly what she became. She began designing and making clothes at 15 for fashion shows, which she co-directed during high school. Forever focusing on her future she had already decided which University to attend by the age of 14. Chantell graduated from the prestigious London College of Fashion with a BA in Fashion Design and Technology Womenswear. During her degree she was recognised as a future star at the Niquitin CQ Fashion awards, with her conceptual parachute dress. She also interned for British design duo Preen and Gavin Douglas which helped give her a wider knowledge of how the fashion industry really worked. Shortly after my degree I gave birth to my son. Determined to be a successful designer and inspiration to my son. The Chantell Walters label was born in 2009. Chantell Walters is a ready to wear brand aimed at the luxury market. The brand is best known for its sharp tailoring, futuristic aesthetic, innovative ideas and eye-catching details. The brand creates clothes that celebrate the female form, through modern tailoring, and edgy silhouettes. Designed for women that are confident, and enjoy playing with different styles. Chantell Walters is the epitome of a powerful woman. The Nature V The Machine A/W12capsule collection consists of wool, cashmere and silk tailored dresses inspired by androids and the film Tron. The S/S2013 collection is a continuation of the Nature V Machine collection with a slight influence from Native Americans. This will be the first time that I have produced a print.

"I am inspired by the future, innovation and people." -Chantell Walters

Joseph Bethune founded Bethune Brothers in 2010; a contemporary sports apparel-clothing company that takes elements of military tailored and is infused with workman. Detailed with stitching that displays a tailored craftsmanship, both stylish and wearable; giving man clothing that fits the different elements of his life style. "The sound of the sewing machine, watching my mother she created living garments," was the inspiration that drove Joseph Bethune to fashion design. That glorious sound caused Joseph to fall in love with the craft of making clothes. Like many wandering kids, Joseph was eager to learn more about the craft, "I would wake up some nights and work on the sewing machine, experimenting with every piece of fabric." Josephs' creations at the time were the beginning of his life's work as a menswear designer. Growing up with 14 siblings, he spent a significant amount of time in charity shops picking second hand apparel pieces, reconstructing them and turning them into high school cult visions. As time passed and Joseph become more knowledgeable about the craft of fashion design, he found that he desired more. He wanted to expand his horizons and understand the business of fashion. Thus, Joseph began working several internships and serving as an apprentice for talented, well-known tailors in his Bronx community. Joseph was able to gain his understanding in fashion through working with Roca wear fashion designer and entrepreneur Terry Corbett as well as Aton Leathers. With this foundation, he began to lay the groundwork for Bethune Brothers, brainstorming the lines look with his brothers. The Bethune brothers were seeking to create a that would break cultural and social barriers, highly versatile, stylish yet casual for all age groups, a collection that would catch the eye of the Wall Street gentleman as well as the Indie artist in Williamsburg, as well as the guy from the inner city the enjoys craftsmanship clothing. Bethune brothers made its fashion debut fall fashion week 2011 at the jazz Lincoln Center. This was no overnight success; years of perfecting his craft and nurtuning a vistion led to the birth of the brand. From the Bethune brothers inception, one might say growing the family name one honorary brother at a time has been its purpose. At this point and time the world is his canvas, and with the Bethune Brothers clothing line he has the opportunity to paint the world as he sees it!!

9 year fashion veteran Kianga Peterson has launched her contemporary collection, K.Milele. Peterson has enjoyed nearly 2 decades of success, designing for major junior brands, including Jay Z's Rocawear, Nelly's Apple Bottoms, Nicky Hilton's Chic, Eve's Fetish, Sean Comb's Sean John, Justin Timberlake's William Rast, Peoples Liberation, Dollhouse, Heatherette, and Beyonce' and Miss Tina Knowles' House of Dereon. Peterson, now 38, decided to start from the core aspects that originally stirred her passion for design; draping, dress making, sewing and pattern making. The result... K.Milele! A contemporary collection that represents the powerful, savvy woman Peterson has become, intertwined with the bold, sassy girl she has always been. K. Milele is Peterson's true voice... of talent, originality, creative expression, and PROVEN SUCCESS!

"K.Milele is my source of freedom. K.Milele represents the powerful, savvy woman I've become, intertwined with the bold, sassy girl i've always been. It's my true voice." -Kianga Peterson

Nzinga Knight is a New York native fashion designer whose line of high-end eveningwear and sportswear offers a sense of mystery, discovery and innovation. "Becoming a young woman within a family of seven vibrant Caribbean women; great fashion was paramount. Growing up in a family with Islamic values coverage was also important. As I became a young woman I began to have my own self-discovery and realized that dressing with high-style and a sense of mystery allowed me to feel and look attractive and be the confident woman that I wanted to be". My only problem was that this feeling and yearning in fashion that so many women have was not reflected in department stores and boutiques. It was as if designers thought there was one kind of woman who wanted the same kind of clothing all the time. I certainly couldn't find a great full length gown with all of the features of say, a sleeve, beautiful fabric, a design that would set me apart all in one dress. Nzinga studied fine art and then fashion design and at Pratt Institute School of Design in New York City where she received a BFA in fashion design (class of 2005). I loved studying fine art and it enhanced me as a creative person and focused on my individuality and what set me apart. Even in my paintings there was always a hint of the unseen, a door or a small window... By my second year I was taking up fashion classes and quickly realized that I was able to express myself as a woman and as a creative fully through this medium. From that moment I decided to dedicate my talent to expressing deep beauty. I developed a style that's both classic and timeless with an emphasis on interesting structure and architecture. At a time when exposure, which was once shocking, is now mundane the Nzinga Knight woman with all of her feminine mystique stands out from the crowd. The Nzinga Knight woman is sensual; she's edgy, mysterious, glamorous, and full of ease and grace. Noted as a visionary designer, Nzinga Knight is the recipient of Council of Fashion Designers of America Award, a DCA Grant and was a winner of the Power UP Business Plan competition sponsored by Citigroup. She has worked with designers Marc Jacobs, ThreeAsFour, Reva Mivasager and Jones NY. She debuted a capsule collection in 2008 that sold internationally and is set to put out a full collection of eveningwear and sportswear for Spring 2013.