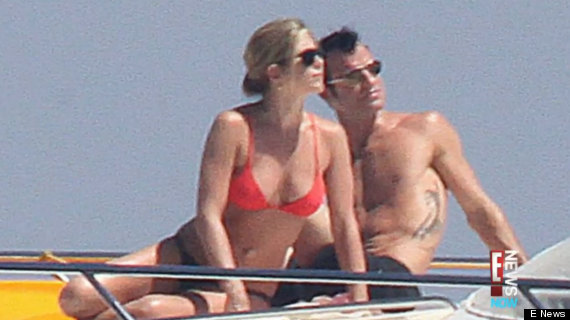 Jennifer Aniston y su novio, Justin Theroux, se fueron de vacaciones a Europa para disfrutar de una escapada romántica. Hace unos días fueron pillados a bordo de un yate en Capri donde los famosos se asoleaban y presumían sus cuerpazos.
Jen con un top rojo de un bikini diminuto y él en shorts oscuros, dejaba ver uno de sus tantos tatuajes, el de su costado izquierdo, sobre las costillas.
La pareja inició su viaje por el Viejo Continente en París, el pasado 10 de junio, donde fueron vistos de la mano visitando lugares turísticos como la Torre Eiffel.
De ahí, Jennifer y Justin volaron a Roma para disfrutar la capital italiana y más adelante, trasladarse a Capri, donde pasaron casi toda una semana relajándose bajo el sol.
Ha sido casi un mes de unas merecidas vacaciones, repletas de lujo y claro, mucho, mucho amor entre los famosos. ¿Habrá ahora sí encontrado Jen a su media naranja?
SUBSCRIBE AND FOLLOW
Get top stories and blog posts emailed to me each day. Newsletters may offer personalized content or advertisements.
Learn more