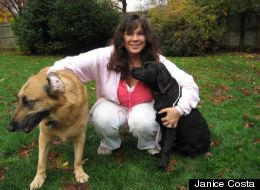 One of the reasons I started my website is that I wanted a place for women to come together and dream. Women should know that they don't have to hold on to an old dream that has stopped nurturing them -- there is always time to start a new dream. This week's story is about how one woman's rescue dog helped her start over after a deafening illness. --MT, MarloThomas.com
By Lori Weiss
Growing up as a shy child, Janice Costa was most comfortable with quieter forms of communication. She expressed herself through music and writing and seemed almost to have a secret language she shared with her English Shepherd, Fluffy. So no one was surprised when she grew up to become a magazine editor, sang in a band and continued adopting trusted companions. But even she was a little stunned to find herself taken by a rescue dog named Jessie.

"She picked me," Janice laughed, "she definitely picked me. My sister Barbara and I had spent the day going to shelters. I was looking for a Lab mix and typically there would be 800 of them! But no matter where we went, we couldn't find one. My sister noticed Jesse and convinced me to take her out and let her stretch her legs a little. At first I thought that would be mean. I didn't want to get her hopes up, since I had my heart set on a Lab."
But a dog lover is a dog lover, so it didn't take much prodding to convince Janice to take some time out to play with the feisty pooch. Within an hour though, the women were back in the car and back on their mission to find what Janice believed to be the dog of her dreams. They went to eight more shelters with no success. And that's when Barbara convinced her sister to go back and take another look at Jessie.
"When she saw me," Janice remembered, "she got all excited and put her paw up. And then a couple came by to look at her and then two more people, and each time she literally turned her back on them. Yet when I walked over, she gave me her paw again. How could I not take her home?"
As it turned out, Janice got a little more than she bargained for when she took Jessie's paw. The sweet shepherd was actually a Belgian Malinois, a breed known for their protective instincts and commonly found in the K-9 units of police departments. So rather than simply cuddling up with Janice when she returned home after a long day -- Jessie would get to work -- protecting her owner from anyone who might cross their path.
"Jessie had been bounced around a lot," Janice explained, "and when that happens, dogs, especially working dogs, try to create a job for themselves, so they'll be allowed to stay. She needed to make herself essential, so she made it her job to guard me. The problem was she wouldn't let anyone, other than my sister and my parents, into my house. That wasn't exactly conducive to dating!"
So Janice brought in a trainer, to see if she could get her overly zealous pet, to consider a new career. But what she couldn't have predicted was that Jesse's need to work, combined with her protective nature, were the perfect qualifications for the next position that would surface.
"About a year after I brought Jessie home," Janice said, "I began having some inner ear problems. My hearing was off, I'd lose my balance and I'd become violently ill -- literally throwing up for hours. Jessie always loved to retrieve things. So one day when things were particularly bad, I asked her to get me the phone. The first time she brought me her bone. But with a couple more tries, she got it down, and with the help of my trainer, she began bringing me my medicine and my water bottle. She'd even alert me if I didn't hear the oven timer go off. In essence, she became my service dog."
As Janice's condition worsened, she began to lose most of the hearing in her right ear -- forcing her to give up one of her great loves -- the band she sang with, and in turn, much of her social life. Jessie became the center of Janice's world and since the active Shepherd required a lot of exercise, she'd often lead her loyal owner to the local dog park.
And it was there, that Janice would not only build a new circle of friends, but like Jessie, a new outlet for her skills.
"I could see that Jessie was more comfortable with people who had dogs," Janice recalled, "so I started searching for opportunities for her to socialize. I joined meet-up groups for dog owners. I began organizing hikes and doggy grab-bags. I even searched for places where I could bring her with me on vacation."
But it didn't take long for Janice to discover that most luxury hotels weren't eager to open their doors to tourists of the four-legged variety. So she came up with an idea that was, well, let's just say -- a little outside of the doghouse: she started a camp for dogs.
"More than a few resort owners hung up on me, but I found a place in the Catskills that was open to the idea. It was in the middle of the recession, so people were a little more willing to listen."
Four months later, 27 dogs and their owners were on their way to a vacation spot better known for their buffets than for their doggy bags.
"And that was my first lesson," Janice laughed. "There was this great breakfast buffet and while most of us left our dogs with someone while we went to get food, there was one woman who didn't. We saw the dog eyeing the table, but before we could do anything -- well, let's just say there was no bacon for breakfast that morning. And I made a mental note to secure a location with table service for the next year."
So in 2010, Janice's canine camp found its new home at the Roaring Brook Ranch in Lake George, New York, where the owner had hosted hundreds of bikers, but never more than a couple barkers at a time.

"He asked if the dogs really needed to swim in the pool," Janice remembered, "and I said yes, that was absolutely part of the deal. I've got lots of swimmers and others that simply like to hang out together on the lounge chairs and this is their vacation.
"I have to admit though, the first time I drove up, Jessie and her little sister Lexie, my black lab pup, spotted the giant fountain out front and before I could stop them, they dove in. I thought we were going to get thrown out before we started."
But the 300-acre ranch, with the stunning backdrop of the Adirondack Mountains has turned out to be the perfect location for a week filled with hours of Flyball and Frisbee, doggy skateboarding, costume contests and even "Barks and Crafts", where pet owners can make souvenirs to bring home from their trip. And of course, everyone at Canine Camp Getaway gathers for "Yappy Hour" by the bar before dinner.
"You can see the wonder in the dogs' eyes when they realize that everything is about treats and games and fun. And each year as the dogs return, I watch them look for their friends and it's amazing to see them run to greet each other.
"I've made so many new friends myself," Janice said softly. "It's been such a gift. When I adopted Jessie, I thought I was changing her life. But as it turned out, she completely changed mine."
To learn more about this fun-filled vacation for pet lovers, you can visit www.caninecampgetaway.com.
Janice Costa searched far and wide for destinations she could take her beloved dog on vacation with her, but she soon found that most luxury hotels weren't so keen on opening their doors to her four-legged friends. Instead, Janice launched Canine Camp Getaway, a vacation just for dogs and their owners.

At Canine Camp Getaway, dog-owners gather in the Adirondack Mountains of New York with their pooches for four days of dog-friendly activities and relaxation.

Activities at dog camp include Flyball, Frisbee, agility courses, swimming and even doggie skateboarding! Here, one of the many pups at this year's Canine Camp Getaway takes the camp agility course like a champion.

There's no doubt most hotels will not allow pooches in their pool, but at this dog-friendly getaway the pool is ruled by the pups. Here, one camper dives into the blue waters without a care in the world at this year's Canine Camp.

While campers Glenn and Sherry relax in the sun, their chocolate labrador, Tugger, enjoys the free run of the pool. Here, Tugger takes a few minutes out of the water to visit with his parents.

For both pet and parent, Canine Camp Getaway is all about relaxing and having fun. Here, Benji, a Dachshund, takes a few minutes out of his day to relax poolside on a lounge chair.

There is an activity for every dog at Canine Camp, even for those four-legged friends that like to get moving on four wheels. Here, one pitbull takes a spin on a skateboard, with a little help!

This year, with camp scheduled just a week before the Fourth of July, parents and pets were encouraged to dress up in their Independence Day best for the camp's annual costume contest. Here, a couple of pups are all decked out for the event.

While Canine Camp Getaway is all about the dogs, there are also plenty of activities for their two-legged friends as well. From "Barks and Crafts," where pet owners can make souvenirs, to "Yappy Hour" every night before dinner, there's an activity for both owner and dog.

Every year at camp, there are a number of trainers on hand to help owners and their pets develop a few new tricks. Here, Canine Camp Getaway's head trainer, Frank Bonomo poses with a pup.

Sometimes the dogs need a little extra help making friends or getting to know each other, so at camp there are a number of veterinarians on hand to help the dogs make introductions and to ensure the safety of everyone.

In the middle of the recession, Janice was able to convince a resort in the Catskills to help her launch her doggie camp. Although it took some time, in 2009, twenty-seven dogs and their owners headed to the famed vacation spot to take part in the first ever Canine Camp Getaway. Here, the camp staff that helped Janice to launch that first year poses for a group photo.

Janice was driven to start her camp out of love of her dog, Jessie. After Janice lost part of her hearing, Jessie became a sort of service dog for her. Today, Janice continues to give back to dogs like Jessie. Here, Canine Camp Getaway set up a booth at DogFest, an event sponsored by Canine Companions for Independence, which raises and places service dogs with people with disabilities.

During her illness, Janice came to rely on her dog, Jessie, more and more. As the Sheperd became the center of Janice's world, Janice began to find new ways she and Jessie could socialize. One such way was to start the Canine Club Meet-Up Group, which allows dog lovers to gather with their pups and make new friends. Here, Janice and the group enjoy a fall backyard meet-up.

Janice launched he Canine Club Meet-Up Group with one of her friends, Lori. Be it freezing or sweltering, the duo has found ways for their pups to have some fun together, like setting up kid's pools or bundling up in their backyards. Here, the group takes to the beach on a particularly warm day.

According to Janice, her pooches have a more active social life than she does! Here, she is, front row, with her dog Lexie, at the Mets' "Bark in the Park" day.

Janice first met Jessie in a shelter, while she was looking to adopt a Labrador. Today it's hard to believe Janice would have ever considered any other dog. Over the years Jessie has become Janice's best friend and right hand. Here, the two friends pose for a photo.

Janice never planned on getting a second dog, but when her friend and trainer, Frank Bonomo, heard about an "oops litter" of black Labrador-Malinois mix, he decided to bring one home to her, telling her just look at the pup. The minute Janice held Lexie, it was all over! Jessie, on the other hand, was not so keen on having a "little sister". For weeks, she'd pretend not to see Lexie, turning her head away. But today the two dogs are good friends.

Before Janice met Jessie, she had Tiffany, a Labrador mix, for fifteen years. Today, she looks at Canine Camp Getaway as part of Tiffany's legacy too, because with out Tiffany there would have been no Jessie, and without Jessie, there may never have been a Canine Camp Getaway.

Growing up, pets were an integral part of Janice's family. In this family photo, Janice and her sisters insisted that their pets be included in the picture so it would be a true "family" portrait.
Add Marlo On Facebook:
Follow Marlo on Twitter:

Weekly Newsletter

Sign up to receive my email newsletter each week - It will keep you up-to-date on upcoming articles, Mondays with Marlo guests, videos, and more!

Sign up here