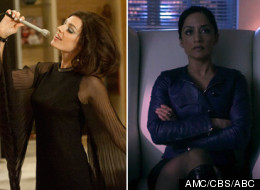 TV fireworks happen year-round -- you don't need bursting in the sky to illicit an "ohh" or an "ahh" from audiences. To celebrate the Fourth of July, we're looking back at some of those moments that made us laugh, cry, gasp and so much more.
From the epic -- the Battle of Blackwater on "Game of Thrones" -- to the sweet -- that long-awaited kiss between Castle and Beckett on "Castle"? -- these moments blew us away this season.
A surprise pregnancy, a loaded gun, a shocking death, an impromptu performance and Gloria Estefan's classic "Get On Your Feet" all made the list. Click through the slideshow below to see what HuffPost TV's favorites were and share your firework moments in the comments.
It was about time -- but so worth the wait. When Castle and Beckett finally shared a steamy, rain-soaked, super-romantic kiss in the Season 4 finale, fans rejoiced (despite the unfortunately dim lighting). Where does this leave things for next season? It's anyone's guess ...

It's not a party on "Revenge" without a murder weapon and Daniel Grayson's birthday was no different. Thought they thought Tyler was gone for good, he arrives at the Hamptons clambake just in time to sing "Happy BIrthday" to Daniel while pointing a gun at Emily's head. Then, he has an idea for a party game: "Truth or Die." But just before someone opts for "Die," Tyler's brother Alex arrives to distract him while Jack tackles him and Daniel punches him in the face. And finally, we can breathe again.

TV's most modern family is expanding ... but not how you'd think. When Mitchell and Cam didn't get their new baby in Mexico as planned, Gloria had a fun surprise to close out the season -- she and Jay are expecting! Manny will have a new brother or sister, and Haley, Alex, Luke and Lily will have a new (newborn) aunt or uncle.

After a slow, building season, fans were chomping at the bit for this battle. Literally everything came to a head in the waters outside King's Landing as Tyrion took charge over his nephew's forces. Their explosive attack was swift, deadly and loud, leaving us gasping for breath on our couches.

Their first tequila shots in a year to Kalinda's sledgehammer, Alicia's creepy calls and finally, Kalinda with her gun, sitting at her front door ... it was all gasp-worthy. We need her badass sunglasses to shield our eyes from the amount of fireworks here.

After more than a year off the air, Jessica Pare (Megan Draper) kicked Season 5 of "Mad Men" off with a bang. At her new husband Don's surprise birthday party, Megan seductively performed the french number "Zou Bisou Bisou" while clad in a little black dress, much to the surprise of Don and the rest of Sterling Cooper Draper Pryce.

At a wild party, Shoshanna accidentally smokes crack, and then accidentally runs around Brooklyn without pants. Ray (Alex Ploshansky) chases her all over Bushwick, inevitably falls for her, and fireworks ensue!

"Boardwalk Empire" shocked viewers in its Season 2 finale when Nucky killed off Jimmy Darmody, one of the show's most beloved characters. Darmody had led a coup to take down his former mentor and Atlantic City's bootlegger-in-chief, and all the scheming led to a rainy face-to-face execution that Jimmy knew was coming. The fact that Nucky pulled the trigger himself was a major turning point for "Boardwalk," as it signified his transition to the full gangster Jimmy had urged him to become a season ago.

Can you say comedy firework? This scene was one of the funniest things on TV this past season. Everything is perfect, from the struts and crowd pandering to the slips and falls, it's all tied together perfectly with Gloria Estefan's "Get On Your Feet."

After Kenny Powers achieved his dream and made it back to the majors, he had an epiphany and gave it all up, walking off the mound in the middle of a game. As he drove back to North Carolina to be with April and his son Toby, his truck careened off the side of the highway and exploded at the bottom of a cliff. It looked like a tragic end, as "Eastbound" showed a montage of his friends and family reacting to the news of his death. But Kenny had the last laugh: he showed up at April's door with his hair bleached blonde, ready to be a family man, and explained that he faked his own death in what audiences believed to be the final act of his insane career. But, now that "Eastbound" has been renewed, who knows what else he'll be up to.

We were gripped all season by Neal McDonough's chilly/unhinged portrayal of gangster Robert Quarles, but none of his many memorable moments compare to his exit from the FX show. In his final showdown with Raylan Givens, the U.S. Marshal had no need for his trusty sidearm: He just sliced Quarles arm right off. We really, really did not see that coming, despite so much of the season being set in a slaughterhouse. Well played, "Justified."

Things are just incredibly complicated for Mike "I'm not really a lawyer" Ross and his office crush Rachel Zane, but when they finally kissed again this season, for a few seconds, fans imagined them living happily ever after. Of course, that didn't last too long ... a relationship with secrets is never easy.

We knew she wasn't exactly in a great mental space all season long, but when Lucretia took Ilythia's baby and jumped off a cliff -- wow. It made a certain kind of sick sense that this had been her insane, but carefully plotted plan all season long, but who knew the show would have the stones to kill off Lucy Lawless' indelible character? But that's "Spartacus" for you -- just when you think they can't possibly have another "Holy s---" moment in their back pocket, they unleash one of craziest moments of all.

Brad Goreski and his partner Gary Janetti were planning a big bash for the Season 1 finale of "It's A Brad, Brad World," but Gary definitely had a surprise up his sleeve. Would he propose? Even better: He planned a flash mob in their backyard with friends (Megan Mullally included) singing "One Day More," their favorite from "Les Miserables." Watch, laugh, cry, repeat.

"The Vampire Diaries" fans have watched Elena GIlbert fight for her loved ones, her life and her mortality throughout the series. But in the last four minutes of the Season 4 finale, that all changed. The practically dialogue-less final moments saw Elena, who had vampire blood in her system, drown in a car accident like the one that killed her parents before the series began. But in the very last scene, as Stefan looked down at her lifeless body, Elena suddenly rose up and gasped for air -- and of course, every "TVD" viewer gasped right along with her.