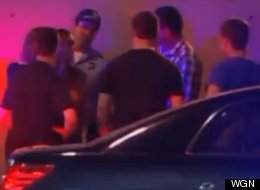 Police arrested 11 juveniles in connection with a mob attack reported in the city's River North neighborhood during the city's Independence Day fireworks show.
A man leaving the 11 p.m. fireworks show at Navy Pier was beaten and hit in the face by a group of teenagers near Dearborn and Huron streets Wednesday, CBS Chicago reports. The juveniles fled the scene, but police apprehended 11 suspects, none of whom have been charged yet.
The man was taken to Northwestern Memorial Hospital, where he's listed in good condition, NBC Chicago reports.
This incident was the latest in a series of "mob-style" attacks that have been increasingly common in Chicago. Last summer, large groups, often composed mostly of juveniles, habitually rushed individuals or smaller groups across the city, often in connection with a robbery attempt. Last month, a group of seven teens were charged in a similar attack downtown.
Police Superintendent Garry McCarthy made targeting the trend a focus during early press conferences when he first stepped up to lead the Chicago Police Department.
"[You should not] be satisfied when you get 10 kids commit an infraction and arrest three of them," McCarthy said last June. "We're gonna find every one of 'em. And we're gonna prosecute and arrest every single one of 'em."
The Illinois State Rifle Association has used the incidents as an argument for the city to loosen its concealed carry restrictions, issuing a statement last summer saying "the most effective defense a victim could muster against a flash mob would be for the victim to draw a concealed firearm."