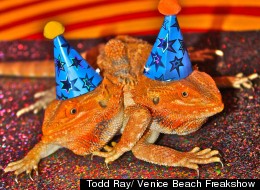 Two years ago, when Todd Ray first got Pancho and Lefty -- his two-headed, six-legged bearded dragon -- the pet wasn't expected to survive long.
"People told me they wouldn't last two weeks," said Ray, who, according to Guinness World Records, owns the world's largest collection of two-headed animals. "But I believe only one other pair has lived longer."
That's cause for celebration for Ray, who is throwing a birthday party for his double-headed reptiles on July 7 at the Venice Beach Freakshow, where he displays much of his collection.
Holding a birthday party for reptiles might seem strange, but this is actually the second year in a row that Ray has celebrated Pancho and Lefty's birthday.
GALLERY: PANCHO AND LEFTY AND OTHER TWO-HEADED ANIMALS (story continues below)
Todd Ray, who is recognized by Guinness World Records as having the largest collection of two-headed animals, is celebrating the second birthday of Pancho and Lefty, a two-headed, six-legged bearded dragon on July 7 in Venice Beach, Calf.

Todd Ray, who runs the Venice Beach Freakshow in Los Angeles and has what may be the world's largest collection of two-headed animals, spent $100 to make this pinata as part of a birthday party he's holding July 7 for Pancho and Lefty, his two-headed, six-legged beard dragon.

Ray spent around $5,000 for Pancho and Lefty after they were born in May, 2010. He believes they are the rarest animals in the world and is proud he's been able to keep them alive for two years since most people didn't think they'd survive a month.

According to Ray, Pancho is the more aggressive one, and prefers crickets. Lefty, on the other hand is more docile and prefers greens.

Ray plans to celebrate Pancho and Lefty's birthday by having a mariachi band seranade them at the Venice Beach Freakshow and by having a sword swallower gobble down three swords in their honor.

What's a party for a two-headed dragon without other two-headed party guests like Laverne and Shirley, a two-headed king snake born in Italy. Ray says when he feeds one a mouse he has to put a playing card between them because otherwise they'd start eating each other.

Ray says Lenny and Squiggy, a two-headed Albino Hognose snake, is considered by most to be the rarest snake on Earth.

Myrtle and Squirtle, a two-headed turtle, was Ray's first double-domed creature. He bought her 10 years ago and says he was mesmerized. "It was literally the cutest thing I ever saw in my life," he said.

One two-headed, six-legged bearded dragon should be enough for anyone, but earlier this year, Ray became of the proud owner of Jeckyll and Hyde, who are younger and smaller.
Last year, for their birthday, he had a gala event that included a mariachi band performing "Happy Birthday," and a sword swallowing performance.
Oh, and a specially-designed pinata made to look like Pancho and Lefty, but filled with candy, not the wax worms they love most.
It turned out to be such a big hit that Ray decided to do it again.
"At the end of the show, I held up Pancho and Lefty so the crowd could see them and you would have thought that it was Lady Gaga surrounded by paparazzi because there were hundreds of cameras.
The mariachi band will be back as well as the pinata.
"I put a trap door in it so I could release the candy without breaking it," Ray explained. In addition, there will be an appearance by Amazing Allie, who Ray says is the littlest lady in Los Angeles and Larry "Wolf Boy" Gomez, an acrobat known for his extreme hairiness.
"The human [anomamilies] have an appreciation for the freaks in the animal world," Ray said. "When you get down to it, this is a planet of freaks and we're celebrating it."