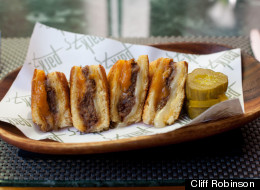 Atlanta has long been an economic and cultural powerhouse in American life. From the city's trade and industrial origins to its growing position as a key exporter of notable cuisine, hair trends and
film and TV productions, the city continues to yield undeniable influence over the cultural, political and social trends that take hold across the country.
As part of Black Voices spotlight on the city we're going to provide you with an inside look at the various industries that are making big growth in the city. This week, Atlantan writer and columnist Ed Adams introduces readers to the city's famous southern cuisine:
I'm an Atlanta native brought up around great, authentic soul food. My dad was a cafeteria chef and kitchen trainer and between he and my mother, cooked three square meals daily. I spent my summers during my formative years at my aunt and uncles place in Dolomite, Ala where we went "up on the hill" to tend a herd of cattle and a passel of hogs. We'd pick blackberries, gather fresh eggs from the chicken coup and pick up bushels of fresh vegetables from local farmers, spending hours shucking, shelling and snapping in preparation of the night's dinner and preserving for the off season. My childhood is filled with the idyll of simmering potlikker, oxtails, tomato gravy, homemade souse and summer fruit preserves and cobblers. My upbringing isn't uncommon in the south - it's the unique opportunity of living close to the land, experiencing farm-to-table and indulging nose-to-tail cooking (or as we say "rootah to tootah") long before it became en vogue.
But soul food is as diverse as its eponymous roots in Southern cuisine. Coined in the '60s the food distinguishes itself from its affinity to traditional southern fair, emphasizing the produce unique to the African diaspora and the discarded bits and organs used in their dishes. In Hog to Hominy: Soul Food from Africa to America, author Frederick Douglas Opie aptly condenses where the "soul" in soul food is derived:
Soul is an amalgamation of West African societies and cultures, as well as an adaptation to conditions of slavery and freedom in the Americas. African Americans developed a cultural identity through soul and the associated foodways of people of African descent over hundreds of years.
Put mildly, southern food addresses an indigenous cuisine while soul food addresses the heritage of a people and a unique connection through its traditional cooking.
But what does this have to do with Atlanta, the birthplace of Tara and the corner stone of the civil rights movement – everything. The city of Atlanta is infused with an unmistakable spice of its soulful heritage. From the stroll of historic Auburn Avenue to the posh rigueur of Midtown and Buckhead, hints of the city's vernacular are apparent in architecture, art and more importantly its food. Look at almost any menu in town and you'll see the subtle influences of the old cleverly woven into the distinct flavors of nouveau southern dishes. From standard country-fried staples to the amuse bouche of the city's top chefs, "soul" has a permanent home on menus of Atlanta's haute cuisine.
But this isn't kitschy cooking. As chefs are inspired by a local footprint in both its produce and flavorings, it's easy to see why this food is gaining prevalence. "Soul food is nothing new in Atlanta. But recently it seems that restaurants are taking local ingredients and traditional 'soul food' dishes and finding creative ways to make them relevant to their individual menus and guests" says Executive Chef Robert Gerstenecker of Park 75 Restaurant. "No clichés – just really delicious and creative food. I'm seeing our guests appreciate the appearance of these items."
Atlanta soul food destinations:
The Beautiful Restaurant
A staple on Atlanta's Southwest side of town, the Beautiful servers up heaping helpings of soul food standards. On the menu, Fried chicken, pork chops, fried catfish, collards (ask for extra potlikker for sopping) and mac and cheese among other things.
2260 Cascade Rd SW, Atlanta, GA 30311, (404) 752-5931.
The Busy Bee
Probably some of the best collard greens in city, the Busy is an inexpensive, popular destination on Atlanta's west side amongst locals.
2284 Cascade Rd SW, Atlanta, GA 30311, (404) 758-4000
Soul Vegetarian
As its name suggests, SV offers its own unique take on traditional soul food. Try the vegan mac and cheese or the palette fooling barbeque soy ribs, they're tasty enough to make you consider going meatless.
652 N Highland Ave NE, Atlanta, GA 30306, (404) 875-4641 and 879 Abernathy Blvd., Atlanta, GA 30310
Big Daddy's Soul Food
Bold smokehouse flavors are punctuated in their beef barbecue ribs, meatloaf and smoky mac and cheese. The carrot soufflé is superb and can make any finicky vegetable eater an instant fan.
2284 Cascade Rd SW, Atlanta, GA 30311, (404) 758-4000
Paschal's
A longtime fine dining locale for African Americans in the city, the restaurant is one of the only soul food restaurants that also serves breakfast. The menu boasts both traditional "home cooking" inspired items like its famous 1947 Fried Chicken and cornbread dressing and new American dishes like southern seafood pasta.
180 Northside Dr NW, Atlanta, GA 30314, (404) 525-2023
Unique soulful bites
Need further proof on the influence of soul food in the city, try these dishes at Atlanta's most talked-about restaurants.
Oxtail tacos at The Sound Table
A contradictory delicate yet hearty bite of savory flavors, braised and shredded oxtail meat is paired with roasted leek pico and mustard.
483 Edgewood Ave, Atlanta, GA 30312, (404)-835-2534
Cornbread bisque at H. Harper Station
An unexpected gnash of subtle flavors, this unpretentious dish is a unique take on creamy corn soup.
904 Memorial Drive , Atlanta, GA 30316, 678-732-0415
Crisp Pig Ear Salad at Holeman and Finch Public House
Don't shy away from this clever gnash of southern flavors. Strips of fried pig ears sit atop arugula, strawberries, peaches, jalapenos, and celery.
2277 Peachtree Rd., Atlanta, GA 30309, 404-948-1175
Short Rib Grilled Cheese at Park 75
An infusion of tangy short ribs paired with and inspired pimento cheese adds a bit of whimsy to this 'ode to South' sandwich.
75 Fourteenth Street NE, Atlanta, Georgia 30309, (404) 881-9898