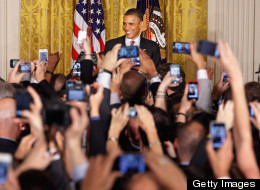 The country's oldest LGBT magazine issued its first presidential endorsement in decades on Friday, throwing its support behind President Barack Obama for his recent show of support for marriage equality.
Under the headline "In Obama We Trust," Advocate editor-in-chief Matthew Breen commended the president for his "enormous" statement that he thinks "same-sex couples should be able to get married" in an ABC interview last month.
In the endorsement, Breen predicted that Obama's historic backing means that no Democratic presidential hopeful will come out of the primary season opposing gay marriage ever again.
"That position would appear too backward to have legitimacy in the 21st century," Breen wrote.
The Advocate had less flattering words for former Massachusetts governor and presumptive GOP presidential nominee Mitt Romney.
Breen accused the Republican candidate of "aligning himself with a faction of the Republican Party that does not include equality among its declared ideals."
But the magazine has not always championed Obama as an LGBT ally.
In its August 2009 issue, a lead story ticked off various campaign promises to gays and lesbians on which Obama had failed to deliver. Its cover mocked the iconic poster behind Obama's 2008 campaign, replacing its longtime slogan "HOPE" with a less assuring "NOPE?"
Even in Friday's endorsement, Breen acknowledged that Obama's evolved stance is hardly ground-breaking but simply the right thing to do at this point in American history.
"Obama's newly declared position on marriage equality is not an extreme view, and it is consistent with the view of the majority of Americans, who believe that same-sex couples should have the right to marry," Breen wrote.
Breen told The Huffington Post on Friday that the last time the Advocate endorsed a political candidate was in 1977, when the magazine weighed in on several non-presidential races across the country.
So, does that make Obama the first commander-in-chief to earn the magazine's stamp of approval?
"It may be," Breen said.
Politicians React To Obama On Same-Sex Marriage
"I believe marriage is a relationship between a man and a woman," Mitt Romney said.

"This is a major turning point in the history of American civil rights," said New York City mayor Michael Bloomberg. "No American president has ever supported a major expansion of civil rights that has not ultimately been adopted by the American people - and I have no doubt that this will be no exception. The march of freedom that has sustained our country since the Revolution of 1776 continues, and no matter what setbacks may occur in a given state, freedom will triumph over fear and equality will prevail over exclusion. Today's announcement is a testament to the President's convictions, and it builds on the courageous stands that so many Americans have taken over the years on behalf of equal rights for gay and lesbian Americans, stretching back to the Stonewall Inn in Greenwich Village."

"I applaud President Obama for announcing his support for marriage equality today," said Rep. Jerrold Nadler (D-N.Y.) "For the first time in this nation's history, a sitting president has shown the courage and leadership to stand up for all American families by pledging to support the fundamental right of every person to marry the person they love, and to have that marriage fully respected. I commend President Obama for this brave and honest step. Those who seek to politicize civil rights for personal or political gain will certainly attack him, but the course toward marriage equality and justice is the correct and inevitable path."

"I'm thrilled!" longshot GOP presidential candidate Fred Karger told HuffPost, referring to Obama's embrace of marriage equality. Karger is the first openly gay Republican or Democrat to run for president. "The Karger pressure has worked," he joked. "Particularly after the defeat in North Carolina, we welcome him to the full equality position."

"I have been blessed to have a long and happy marriage. I strongly believe all Americans deserve that same opportunity," said Rep. Nita Lowey (D-N.Y.)

"While President Obama has played politics on this issue, the Republican Party and our presumptive nominee Mitt Romney have been clear. We support maintaining marriage between one man and one woman and would oppose any attempts to change that," said RNC Chairman Reince Priebus.

"Barack Obama just announced he supports same-sex marriage," Mike Huckabee wrote in a fundraising appeal to supporters. "Nancy Pelosi immediately jumped on the announcement and emailed Democrat activists nationwide promising to continue their fight. This is going to be a defining issue this election. Obama, Pelosi and the Democrats have been a complete failure on economic issues so now they are going to focus on issues that will rile up their base. Well, Mr. President it's going to rile up our folks also. Men and women who support traditional marriage."

"President Obama's support for marriage equality marks an important moment for civil rights in America," said Senator Frank R. Lautenberg (D-NJ), who co-sponsored legislation that would repeal the Defense of Marriage Act (DOMA). "We simply can not treat same sex couples as second-class citizens in our country. Marriage equality is one of the most significant civil rights battles of our time and is critical to guaranteeing the equal protection under the law promised to every American in the Constitution. The President's support for marriage equality should inspire Congress, Governors and state legislatures to advance civil rights for all Americans."

"This is an historic moment and I applaud the President for his decision and courage," Rep. Peter Welch (D-Vt.) said. "One of the greatest and most liberating human emotions is acceptance. And what the President did today was accept that the quality of love two people share is more important than their gender. The President's decision required him look within and engage his heart. It is truly wonderful and welcome news."

"As an early and strong proponent of Marriage Equality, I am very happy that President Obama has made this announcement," said Rep. Steve Rothman (D-N.J.) "Marriage Equality is a matter of basic human rights and all of America's same-sex families are now closer to having their unions recognized by our government. This is an important step in our country's march toward achieving true justice and equality for all."

"President Obama's public support for marriage equality is an historic affirmation of the fundamental American value of equal rights for all," said Howard Dean. "Having signed the nation's first law allowing Civil Unions as Governor of Vermont, I'm also proud to see our president affirm the belief that I and so many other Americans hold: loving and committed couples should have the same benefits that are extended through marriage. Marriage equality is a right and a benefit to all families."

"In my opinion this is a distraction," former Senate candidate Christine O'Donnell told Fox News anchor Neil Cavuto. "President Obama does not have a record that he can stand on. People are not finding jobs, they cannot find a house. The worst thing that can happen for his re-election efforts is if every day that goes by people are being reminded of this economic mess that his policies have created in this country."

"Earlier this year, President Obama took a major step towards vindicating the rights of lesbian, gay, bisexual and transgender people to marry when he announced his refusal to defend the Defense of Marriage Act's blatant discrimination against us," Rep. Barney Frank (D-Mass.) said in a statement. "Today he has taken the next logical step to complete the process by expressing his support for our right to marry people of the same sex. I understand why a President facing a national election took some time in making this decision, and I believe that the fact that he first announced his repudiation of DOMA gave him a chance to assess the reaction to that. I know there are those who wish that elected officials would completely ignore public opinion - of course only in those cases where they do not agree with public opinion - but that is not a realistic course in a democracy for those seeking to get the authority from the public to govern." "This does not meant that the President's decision today was entirely without some political risk, but I believe it will be clear in the days ahead that this will cost him no votes, since those opposed to legal equality for LGBT people were already inclined to oppose him, and that it will make it easier for us to mobilize the people in this country who oppose discrimination to help reelect him."

"President Obama now wants the federal government to redefine marriage in Missouri and everywhere in our country with his newly "evolved" support for same-sex marriage," said John Brunner, one of the Republican candidates for U.S. Senate in Missouri. "My consistent conservative belief is that marriage is between one man and one woman and it is a belief I will fight for in the United States Senate if Missourians elect me. What President Obama did today by reversing his position in an election year is not surprising. Moreover, it is clearly an attempt to distract from his record of failure on economic issues including high unemployment, out of control spending and America's $15 trillion debt. Missourians tell me they want a conservative Citizen-Senator who will go to Washington and fight for American values and American jobs, and that is exactly what I will be."

San Diego Mayor Jerry Sanders (R) told the Los Angeles Times he supported the president's statement: "As someone whose position has also evolved, I know this is an issue of equality and basic human rights," Sanders said. "Two people who love each other should be able to get married. It's really as simple as that. History will judge President Obama kindly for his decision." Sanders, a former police chief, opposed same-sex marriage when he ran for mayor in 2005. But he reversed his position in 2007 during his reelection campaign, saying that his previous opposition stemmed from prejudice.

"My personal belief is that marriage is between a man and a woman," said Sen. Majority Leader Harry Reid (D-Nev). "But in a civil society, I believe that people should be able to marry whomever they want, and it's no business of mine if two men or two women want to get married. The idea that allowing two loving, committed people to marry would have any impact on my life, or on my family's life, always struck me as absurd. "In talking with my children and grandchildren, it has become clear to me they take marriage equality as a given. I have no doubt that their view will carry the future. "I handled a fair amount of domestic relations work when I was a practicing lawyer, and it was all governed by state law. I believe that is the proper place for this issue to be decided as well."