While perusing Pinterest, we came across the work of Berlin-based artist Owen Gatley, whose unique illustration of a home captured our hearts.
Reminiscent of midcentury picture books, the work, entitled "Home," visually sums up what Gatley's dream abode would be -- a colorful place filled with dancing, singing and fun. He says:
"I'm a big lover of music and playing with others so, I imagined my [illustration] as being a house that I would want to live in, with different bands and genres playing together under one roof."
"Home" was created for an exhibit (of the same name), where artists were asked to visually define what home meant to them. Gatley went with a design that was created with the help of modern technology such as Adobe Photoshop, but used retro colors like the vibrant blue and muted orange we see in the two rooms below, inspired by the 1960s, throughout his work.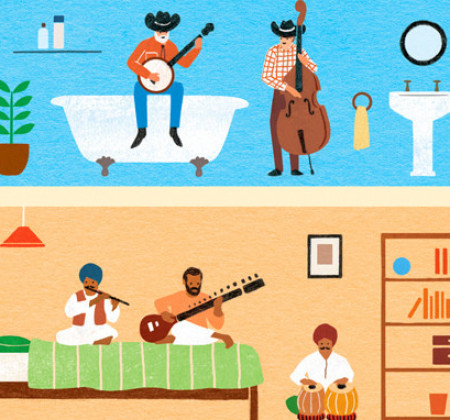 We loved "Home" so much that we sought out more of Gatley's work. He has done illustrations for The New York Times and Eureka magazine. In the latter, he illustrated how people in the year 2050 might spend their holidays on giant cruise ships orbitting the earth. Pretty cool, huh?
For more on Owen Gatley and his designs, visit his website.
SUBSCRIBE AND FOLLOW
Get top stories and blog posts emailed to me each day. Newsletters may offer personalized content or advertisements.
Learn more