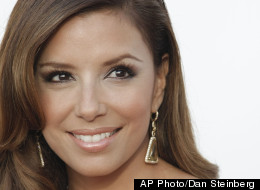 We're supposed to "forgive and forget," but when it comes to exes, that's often easier said than done.
But since July 7 is Global Forgiveness Day, the first of at least three upcoming holidays celebrating forgiveness (including International Forgiveness Day and National Forgiveness Day), we thought we'd give you a little inspiration.
The celebs in the slides below endured everything from infidelity to alleged death threats during their divorces, but when it was all said and done, they claim to have made peace with their splits.
Were you able to forgive your ex after a breakup?
Celebs Who "Forgave" Their Exes
Eva Longoria's marriage to Tony Parker ended in November 2010, amid reports that the basketball player had been sending steamy texts to a former teammate's wife. Since then, Longoria has made a point stay clear of rehashing the details with talk show hosts; instead, she has forgiving outlook on what happened. "So many people want me to hate him and destroy him, but I don't want to. I want him to be happy. He's not a bad person," Longoria told Piers Morgan in her first post-split interview in June 2011. "I do believe in forgiving and forgetting. There was a reason we were together. I just want to hold on to the good times."

Denise Richards and Charlie Sheen's 2006 divorce turned ugly quickly. In April 2006, Richards accused the actor of drug abuse and threatening to kill her -- allegations that Sheen called "vile" and "baseless." Later, during his often-erratic 2011 one-man comedy tour, Sheen made jokes and jabs at Richards' expense a recurring part the show. But today, the former couple vacation together with their two daughters, Lola, 7, and Sam, 8 and have even co-starred in an episode of Sheen's new sitcom, "Anger Management." So how has Richards been able to move beyond her tumultuous history with her ex? "I've always been a very forgiving person and I think that you should move on from situations," the actress told omg! from Yahoo in May 2012. "I don't like to have that toxic energy and hold on to things. I like to move on and move past it."

Kelsey Grammer divorced his wife of 14 years, Camille, in February 2011, following allegations that he had had an affair with the flight attendant -- Kayte Walsh -- he'd go on to marry that same month. Since then, Camille has forgiven Kelsey and moved on with boyfriend Dimitri Charalambopoulos, saying she had to "go to hell to get to heaven." "I have learned to forgive Kelsey and have appreciation," the "Real Housewives of Beverly Hills" star told Hollywood Life in May 2012. "Forgiveness and gratitude are so important. If you don't forgive, it will eat you up and make you sick."

"Jon & Kate Plus 8" star Kate Gosselin filed for divorce from husband, Jon, in June 2009 after ten years of marriage and amid allegations of Jon's infidelity. In December 2010, Gosselin told "Today" show co-host Meredith Vieira that she hadn't yet made up with Jon after their highly publicized split, but that she'd "strangely and ironically, forgiven him for the sake" of their eight children. "I'm hurt and angry, but what good does it do to live that way?" Gosselin said, "I'm pushing ahead and providing a future for my kids. I don't have time to waste sitting around being upset."

Rolling Stones guitarist Ronnie Wood made headlines in July 2008 when he left his wife of 24 years, Jo, for an 18-year-old cocktail waitress. A little more than a year later, Jo revealed that she had already forgiven her estranged husband and that she even encouraged her children to do the same. "He's slowly making friends with the kids again but it's difficult and these things take time," she told Hello! magazine in October 2009. "I think maybe he was a bit nervous at first but he shouldn't be. I've forgiven him and I'm not bitter about anything he's done. Life's too short to be like that." The couple divorced in November 2009.