The Smithsonian Store has some pretty neat stuff, but it's also home to some products that can only be described as crap.
Where this $28 glow-in-the-dark spider computer mouse falls on the neat-crap continuum is very much in the eye of the beholder.
Scroll Down For Photo
Consider the following specifics -- they're either grade makers or deal breakers.
Firstly, yes, that is a real spider. It's hard to tell exactly what species, but chances are it's probably not radioactive and definitely dead. There is also a beetle variant of the computer mouse.
Secondly, the mouse is purple, black and clear acrylic. This is a turn-on if you're a fan of warlocks, witches, "The Phantom" or the Colorado Rockies. But it's a turn-off if you have good taste.
Thirdly, it's not ergonomic, which means it might lead to carpal tunnel syndrome. Still, at least your mouse won't look like a sex toy. Beware, though, there are some sex toys that look like a computer mouse.
Pros: USB compatible, freaks out grandchildren, glows in the dark.
Cons: Not wireless, freaks out grandchildren, glows in the dark.
LOOK: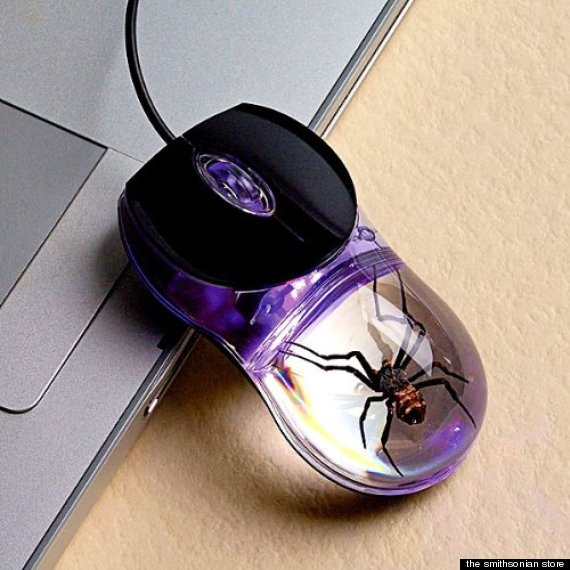 (via Incredible Things)
Also on HuffPost:
Loading Slideshow
The Apple Collection

The Apple Collection catalog from the 1980s. <em>To see more from the catalog, visit <a href="http://imgur.com/a/qEB92"target="_hplink">rickh3255, Imgur</a>. </em>

The Apple Collection catalog from the 1980s. <em>To see more from the catalog, visit <a href="http://imgur.com/a/qEB92"target="_hplink">rickh3255, Imgur</a>. </em>

The Apple Collection

The Apple Collection catalog from the 1980s. <em>To see more from the catalog, visit <a href="http://imgur.com/a/qEB92"target="_hplink">rickh3255, Imgur</a>. </em>

The Apple Collection

The Apple Collection catalog from the 1980s. <em>To see more from the catalog, visit <a href="http://imgur.com/a/qEB92"target="_hplink">rickh3255, Imgur</a>. </em>

The Apple Collection

The Apple Collection catalog from the 1980s. <em>To see more from the catalog, visit <a href="http://imgur.com/a/qEB92"target="_hplink">rickh3255, Imgur</a>. </em>

The Apple Collection catalog from the 1980s. <em>To see more from the catalog, visit <a href="http://imgur.com/a/qEB92"target="_hplink">rickh3255, Imgur</a>. </em>

The Apple Collection catalog from the 1980s. <em>To see more from the catalog, visit <a href="http://imgur.com/a/qEB92"target="_hplink">rickh3255, Imgur</a>. </em>

The Apple Collection catalog from the 1980s. <em>To see more from the catalog, visit <a href="http://imgur.com/a/qEB92"target="_hplink">rickh3255, Imgur</a>. </em>

The Apple Collection

The Apple Collection catalog from the 1980s. <em>To see more from the catalog, visit <a href="http://imgur.com/a/qEB92"target="_hplink">rickh3255, Imgur</a>. </em>

The Apple Collection

The Apple Collection catalog from the 1980s. <em>To see more from the catalog, visit <a href="http://imgur.com/a/qEB92"target="_hplink">rickh3255, Imgur</a>. </em>

The Apple Collection

The Apple Collection catalog from the 1980s. <em>To see more from the catalog, visit <a href="http://imgur.com/a/qEB92"target="_hplink">rickh3255, Imgur</a>. </em>