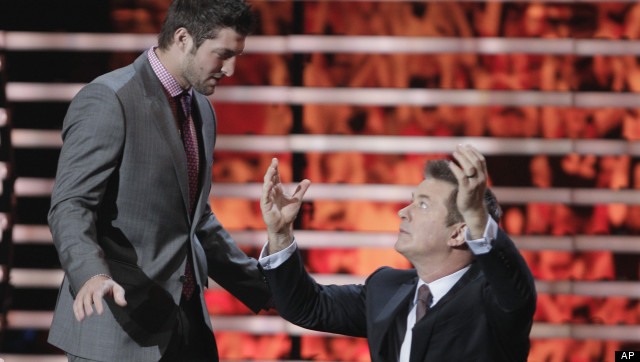 For athletes and fans and the masses of the sports media that mediate between the two parties, the day after the Major League Baseball All-Star Game is supposed to be one of rest. (Of course, you won't sell that to anyone covering NBA Free Agency.) With all apologies to the six MLS teams in action, tonight is widely considered the absolute slowest day on the domestic sports calendar. To fill the programming void, ESPN invites superpstars from the worlds of sports and entertaiment to participate in its annual awards show.
The 2012 ESPY Awards Show is the 20th iteration of the annual event that mixes Bristol backslapping, on-field high-fiving and the occasional SNL cast member. Not surprisingly, the gift bag is stupendous. While it conveniently emulates the name of the sports media company that dreamed up the award, "ESPY" actually stands for "Excellence in Sports Performance Yearly Award."
With ESPN thoroughly covering these superlative events and performances, we thought that someone should take a look at what's left over before we reset the sporting calendar with the start of the college and professional football preseasons. What were the biggest disappointments, recurrent annoyances and cringe-worthy trends that defined the past year in sports. What would we like to see less of in the coming year?
So, let us know which of these LESSPY nominees that you'd most like to leave behind as we get set for another year in sports. Do you never need to see someone Tebowing again? Or was the hipster takeover of the NBA playoff pressers just a fuchsia bridge too far? For the purists out there, do you save your bile for things like pitch counts and flopping?
Most importantly, what did we forget to mention that really grinds your gears? What has been annoying you most in the wide world of sports over the last 12 months?
VOTE: 2012 LESSPY Nominees
SUBSCRIBE TO & FOLLOW THE MORNING EMAIL
The Morning Email helps you start your workday with everything you need to know: breaking news, entertainment and a dash of fun. Learn more