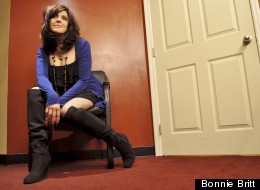 One of the reasons I started my website is that I wanted a place for women to come together and dream. We women need to know that we don't have to hang on to an old dream that has stopped nurturing us -- that there is always time to start a new dream. This story is about a woman who sacrificed the spotlight to help her family survive, and has been given the chance to take center stage with her very own record deal more than 20 years later! -– Marlo, MarloThomas.com
By Lori Weiss
From the time Etta Britt was a young girl, she was singing back-up for Diana Ross. It's just that Diana didn't know it. Because Etta was in front of her bedroom mirror in Louisville, Kentucky -- hair brush in hand, as a microphone, of course -- pretending she was one of the Supremes.
"I'd stand there for hours," Etta laughed, "and pretend I was on stage. And my brother would come in and tease me and I'd throw the hairbrush at him."
But Etta showed him. She went off to camp in sixth grade and decided to sing a song in the talent contest and out of 16 acts, Etta took first place.
"That was the moment I fell in love with singing," she recalled, "the moment that I knew it was the only thing I wanted to do with my life. That trophy they gave me -- that was my Grammy."
So no one was surprised when Etta was chosen to be part of the Kentucky All State Choir or even when she ended up on stage at the American Music Awards, as part of Dave and Sugar, a country music trio, best known in the 70s for songs like "The Door Is Always Open" and "Tear Time."
"I had just joined Dave and Sugar two weeks earlier," Etta said. "I finished unpacking the U-haul truck and settled in and there we were up on stage presenting an award. I had 15 steps to walk down in this long gown and all I could think was please don't let me fall down these steps. That was not what I wanted everyone in Nashville to think about when they heard the name Etta Britt."
Etta made it down those steps just fine and went on to become known not as the girl who tripped on the stairs, but as an important part of a successful country music group. Her star was rising on the Nashville scene -- until Dave decided his could shine brighter if he went out on his own and began a solo career -- "Sugar free."
"At that point, I didn't really know many people outside the band," she said. "But I started making demos and knocking on the doors of record labels. I did back-up sessions and some jingles, just trying to get something going."
But in the meantime, there was something else going on: Etta had fallen madly in love with her husband Bob Britt, a guitarist, and the two married and started a family.
"We were struggling musicians," Etta said sadly, "with two little babies and no money. Something had to give, so I gave. I took a back seat so Bob could get his guitar career going."
So while Bob went on the road with groups like The Dixie Chicks, John Fogerty and Wynonna, Etta watched over their daughters Hannah and Bonnie and did what she could to make ends meet. She waited tables, cleaned homes and sold real estate, but through it all, she took every opportunity she could to do a recording session or sing back-up for groups that were performing in Nashville.
What she couldn't have known was that, 20 years later, one of those artists she backed-up would circle back and put her center stage.
Story continues below slideshow.
It Ain't Over: Etta Britt
Here, Etta sings alongside her husband Bob and Delbert McClinton during Delbert's show. She used to sing backup for Delbert after completing her opening act. These days, she is up on stage with Delbert for almost his entire show.

Etta felt like a rock star on the day that she signed her record deal. Here, she is pictured with the Wrinkled Records team. (Left to right: Katie Gillon, Stephen McCord and Sandy Knox)

Etta's daughter Bonnie snapped this promotional photo of her mom at their farm while she was talking to the family dog, Jasper.

Etta grew up with seven siblings and loved being part of a big family. Since her dad was a truck driver who was always on the road, her mom often looked after all of the children on her own.

In middle school, Etta sang into a hairbrush in front of her bedroom mirror. She also performed as a cheerleader - and although she wasn't the best, she was always the loudest girl on the field!

In high school, Etta sang in a gospel quartet with her sister, a cousin and a friend. They used to perform two signature songs at local churches.

Here, Etta performs at her first real gig in Renfro Valley, KY. She was 19 years old and did the Saturday Night Barn Dance and Sunday Morning Gathering. Soon after, she began singing rock and roll.

Etta's parents, Arthur and Amanda, have always been supportive of her career. Here, they are pictured at Twitty City in Hendersonville, TN, where they had come to see Etta perform with Dave & Sugar early in her career.

Etta attended her first CMA Awards show (the largest award show in country music) in 1979 as part of the group Dave & Sugar. She had presented an award with the group at the American Music Awards earlier that year.

Here, Etta performs in her first band after Dave & Sugar broke up. The group toured the hotel circuit, sometimes staying in one hotel for a month at a time.

Etta considers her wedding day to have been the most wonderful day of her life. Sometimes when she introduces her husband Bob at her shows, she refers to him as, "The producer of her CD, the producer of her children and the love of her life."

Etta poses outside the Variety Playhouse in Atlanta, GA on her first night opening for Delbert McClinton in April 2012.

Etta performed on the Delbert McClinton Cruise right before signing with Wrinkled Records. Delbert featured her in two shows and allowed her to perform solo with his band, which won her many new fans.

Etta opened for Delbert McClinton at the House of Blues in Myrtle Beach, SC. She didn't feel connected to the audience that night until she got a little more personal and said, "You may be wondering who the hell I am...well, I'll tell ya, I'm a 55-year-old woman who just got her first record deal!" After that, the crowd roared and the show was a success.

Here, Etta poses for a promotional shot at Centennial Park in Nashville.

Etta considers her family to be the most important people in her world. Here, she is pictured with husband Bob and daughters Hannah and Bonnie in the family kitchen.

Etta's record is composed of songs written by her and by accomplished singer/songwriters, including Michael McDonald. Her daughter Bonnie shot the photo that appears on the album cover.
"I was just raising my girls and doing what I had to do to get by," Etta said. "But I never gave up on my dream. I kept crafting songs and one evening I was on stage performing at something they call a writers night, and I spotted Sandy Knox out in the audience. I had sung back-up for Sandy in the '90s and she's a major songwriter. She's written for Reba McEntire, Dionne Warwick and Neil Diamond. She's been nominated for Grammys. I was so nervous when I saw her. She'd never heard anything I'd written."
At the end of the evening, the women reunited and Sandy asked Etta to send her some of her songs. And not long after, the women met for lunch -- along with Katie Gillon, a former MCA executive and 25-year veteran of the music business.
"I thought maybe they were starting a publishing company," Etta said with a grin, "and they were interested in one of my songs. So, when Sandy said she had an ulterior motive in asking me to lunch, I wasn't all that surprised.
"But then she said they were starting a record label -- to give a home to artists who were a little bit older, who they thought never got their shot -- and they wanted me to be the first person they signed. I had to look around to see who she was talking to! I wanted to do cartwheels around the room!"
The women were, indeed, starting a new label and calling it Wrinkled Records. But they don't define "Wrinkled" in the way one might think. Sandy and Katie, who are both over 50, see their label as the latest wrinkle in the ever-evolving music business -- music that's ageless.
"Before I knew it," Etta said, "I was in my first pitch meeting. There I was in the big chair and people were playing songs they wanted me to record!"
And these weren't just any songs. Even singer/songwriter Michael McDonald was sending over music for her to consider. And two of his songs are on Etta's new CD, "Out of The Shadows," right there next to songs she wrote herself -– "Quiet House" and "She's Eighteen" -- which speak to the empty nest she and Bob are sharing now that the girls have moved out on their own.
"Those are real tears you hear when I'm singing those songs," Etta said. "Hannah and Bonnie have turned out to be amazing women and they're off charting their own course. And now I'm doing the same. It's all timing. I'm a real believer that things happen when they're supposed to happen -- in their own time."
And they're happening in the way the couple first hoped they would, early on in their careers. Etta is singing and Bob is right there on guitar. He also produced her CD, bringing in many of the musicians he's been performing with for years. And now they're on the road together, touring with Delbert McClinton and Paul Thorn.
"When I walk out on stage, I often say 'You're probably wondering who I am. Well, I'm a 55-year-old woman who just got her first record deal.' And I get a standing ovation.
"Just like the title of the CD, I feel like I'm coming out of the shadows," Etta said with a tear in her eye. "And now I'm showing my daughters that it doesn't matter what your age is -- you can still make your dreams come true."
Etta Britt with be on tour with Delbert McClinton this summer, beginning July 27th at the BB King Blues Club in New York. To find out when she'll be in a city near you, you can visit EttaBritt.com. Her new CD is available on wrinkledrecords.com,amazon.com and itunes.com.
Add Marlo On Facebook:
Follow Marlo on Twitter:

Weekly Newsletter

Sign up to receive my email newsletter each week - It will keep you up-to-date on upcoming articles, Mondays with Marlo guests, videos, and more!

Sign up here