Rep. Mike Coffman Denies That He Scrubbed His Wikipedia Page Removing Recent Obama Is 'Not An American' Comment (VIDEO)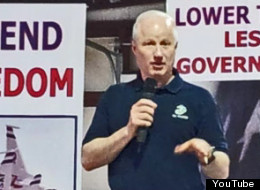 Rep. Mike Coffman is in hot water again. This time a computer with a House of Representatives IP address was used to edit Coffman's Wikipedia page, removing from it a reference to a statement he made in May where he said that President Barack Obama is "not an American" at heart. However, Coffman denies that it was him that made the edits.
On Monday, BuzzFeed broke the story with a piece titled "33 Embarrrassing Congressional Edits to Members' Wikipedia Pages" -- and listed at the dubious number one spot: Coffman's page. BuzzFeed states that they searched through Wikipedia for the House of Representatives IP address to find which pages had been edited by Congressional staff, "The IP address, shared by all Congressional offices offers a glimpse at who decided to do a bit of historical airbrushing," Andrew Kaczynski writes in the BuzzFeed piece.
Since the IP address is shared by all Congressional offices, anyone using a House computer could have edited the page and Coffman is denying that it was him that made the changes, saying to 9News on Wednesday, "I've never touched my Wikipedia page, and I've never asked anyone to change anything on it."
However, on Wikipedia's edit history page, there was an edit om May 24 at 5:46 p.m. to Coffman's page that removed this entire section:
During a campaign fundraiser, Coffman expressed doubt that President Barack Obama had been born in the United States, and declared that "in his heart, he's not an American. He's just not an American." When asked for an explanation, Coffman claimed that he "misspoke."
In a press statement, Coffman's Democratic challenger Joe Miklosi is critical of the edits and puts the blame squarely on Coffman's shoulders:
No amount of self-editing can hide the fact that Congressman Mike Coffman is Colorado's own version of Rush Limbaugh. No matter how much he tries to scrub the truth off the Internet, he can't hide his extreme record– from trying to ban all abortions even in cases of rape and incest, to his efforts to end Medicare.
At the time of publishing, Coffman's Wikipedia page has reference to the incident again, now with more detail and some minor wording changes.
Coffman's original startling statement about the legitimacy of President Obama's citizenship was made toward the end of a speech at a fundraiser in Elbert County, Colorado on May 12. After citing the downturn in the economy, Coffman said:
I don't know whether Barack Obama was born in the United States of America. I don't know that. But I do know this, that in his heart, he's not an American. He's just not an American.
Listen to a clip of the original fundraiser speech above and watch Coffman's response to 9News below.