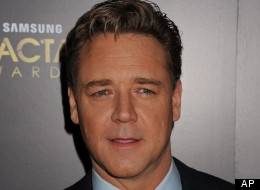 Russell Crowe may want to suck your blood in an upcoming movie -- and considering Eli Roth is in talks to direct, expect there to be lots of blood. Deadline.com reports that Roth, best known as the horror mastermind behind the "Hostel" franchise, could direct "Harker," a Warner Bros. update of the Dracula myth that would focus on the hunt for the world's most famous vampire.
Crowe's involvement was first reported by Vulture back in February. At the time, it was unclear whether the Oscar-winning actor would play the title vampire hunter or Dracula himself. "Harker" -- which initially was supposed to be directed by Jaume Collet-Serra ("Unknown") -- follows Jonathan Harker, a Scotland Yard detective trying to track down Dracula. Per Deadline's Nikki Finke, Crowe is only attached to the first film in this possible franchise (think "Sherlock Holmes"), and no actor is yet aboard to play Harker.
While Crowe pairing with Roth might seem completely insane, note that the two teamed up for RZA's "Man With the Iron Fists," a chopsocky throwback that Roth produced and co-wrote. (Crowe plays the film's villain.) Playing Dracula would give Crowe a trifecta of iconic characters on his upcoming docket: He's also starring as Noah in Darren Aronofsky's "Noah" (about Noah's Ark) and Inspector Javert in December's big screen adaptation of "Les Miserables."
For more on "Harker," head over to Deadline.com.
[via Deadline.com]
Best American Accents By Non-Americans
It's hard to tell where, exactly, Farrell is from in real life, since he more or less speaks exclusively in a low-level growl only dogs can hear. As it turns out, he's from Ireland, although you wouldn't know it from his roles in Steven Spielberg's high-tech chase movie "Minority Report" or Joel Schumacher's underrated thriller "Phone Booth." (He was also pretty good in the largely unwatchable "Horrible Bosses.") However, his best Americanization might have come last year in the tragically under-seen "Fright Night" remake, where Farrell channeled that growl into the role of an eons-old vampire who's come to an economically depressed suburb of Las Vegas to feed. Here, Farrell dumps his Irish accent but still implies a terrifying old-world regality.

While Daniel Day-Lewis maintains both British and Irish citizenship (thanks, Internet!), more often than not, he's playing characters who are American. Whether it's Bill "The Butcher" Cutting, the scourge of mid-nineteenth century Manhattan in Martin Scorsese's troubled epic "Gangs of New York," or oil baron Daniel Plainview in Paul Thomas Anderson's instant classic "There Will Be Blood," Day-Lewis seems to inhabit everything that makes an American an American, for better or worse (often times, worse). This fall he'll play one of the most important American historical figures in history when he steps into the title role of Steven Spielberg's "Lincoln." It's sort of like Day-Lewis drinks the milkshakes of actual American actors. Or something.

Although he's Australian, Guy Pearce rose to stardom with a pair of roles that required a flawless American accent: 1997's Oscar-winning "L.A. Confidential" (where he played morally compromised detective Ed Exley) and 2000's "Memento" (as Leonard Shelby, a man with short-term memory loss and vengeance on the brain). Pearce is a wiry chameleon and often slips into his American roles with ease; since "Memento," he's played roles like a rakish rogue in the Luc Besson-produced "Lockout," and, later this summer, as a prohibition-era deputy in frequent collaborator John Hillcoat's "Lawless."

The Welsh-born Bale made a seismic impact playing an archetypal American superhero in a trio of Christopher Nolan-directed Batman movies - "Batman Begins," "The Dark Knight," and "The Dark Knight Rises" (out later this month). But his turn as Bruce Wayne only scratches the surface of his love affair with larger-than-life American characters, from Patrick Bateman in an adaptation of Bret Easton Ellis' iconic "American Psycho," to Melvin Purvis a.k.a. "The Man Who Gunned Down John Dillinger" in "Public Enemies" to futuristic freedom fighter John Connor in "Terminator Salvation" to low-level boxer and drug addict Dicky Eklund in "The Fighter" (a role that won him an Academy Award). Like Daniel Day-Lewis, Bale seems uninterested in playing just Americans; instead he wants to play American icons.

How do you make a cool cat like Idris Elba even cooler? By realizing that he actually speaks with a British accent. On the HBO series "The Wire," the British-born actor was the epitome of a complex Baltimore menace as drug-dealing lieutenant Stringer Bell. He's also put in a number of Americanized performances in movies, from "Tyler Perry's Daddy's Little Girls" to this summer's "Prometheus," where he played an American spaceship pilot who seemed more like an old timey sea captain.

Everyone seems to love Hugh Jackman -- and for good reason: He's ridiculously talented, smart and, from what I understand, a real showstopper on Broadway. Although one of his most iconic characters -- that of adamantium-clawed mutant Wolverine in the "X-Men" movies -- can be mistaken for an American (he's actually Canadian!), the Australian actor still has a lock on American accents, in films like "Real Steel," the Joel Silver thriller "Swordfish" and the sorely underrated Darren Aronofsky thingamajig "The Fountain." Yes, Jackman is super-charming with any accent he chooses to adopt, with or without claws.

Even though he's only 22, Aaron Johnson, born in Buckinghamshire, England, has made a name for himself with a pair of truly American roles, first as the titular character in Matthew Vaughn's superhero deconstruction "Kick-Ass," and as Ben in Oliver Stone's upcoming flick "Savages." Part of what makes Johnson's American accent so believable is that most people have never seen him before (his John Lennon biopic, "Nowhere Boy," directed by his future wife Sam Taylor-Wood, was a blip).

OK, Gibson is American, however, he spent his formative years in Australia after moving there at the age of 12. During the early "Lethal Weapon" movies, you could still hear traces of Gibson's thunder from Down Under, but in "Ransom" "Signs" and "Get the Gringo," you can barely detect an accent at all. Maybe what makes his American accent so good is that Gibson has been playing American characters almost exclusively since "Lethal Weapon." Granted, his British accent, as heard in "Hamlet," is, oddly, iffier. Maybe he's spent so long living and working as an American that it's hard to be anything but?

No, "vampire" is not an accent (ask Colin Farrell), but most of us know Robert Pattinson from his role as Edward, the shimmery lily-white vampire in the four "Twilight" movies (the fourth one comes out this Thanksgiving). Edward speaks in an American accent that suggests some kind of European aristocratic background. He's also faked an American accent in "Remember Me" and "Water for Elephants." In August he'll be going all Yank-speak one again, this time for David Cronenberg's "Cosmopolis."

No, your neighborhood friendly Andrew Garfield is not American (he was born in California and raised in England), despite doing a more than convincing Yankee accent in David Fincher's "The Social Network" and Robert Redford's "Lions for Lambs." Next up, Garfield portrays New York City native Peter Parker in "The Amazing Spider-Man," another character with an American accent that Garfield (no surprise) nails.

Born in New Zealand and raised in Australia, Russell Crowe is another foreign actor with a filmography stocked with American roles, from the rugged gunslinger Cort in Sam Raimi's "The Quick and the Dead" to an evil computer program Sid 6.7 in "Virtuosity" to a morally ambiguous cop in "L.A. Confidential" (with fellow Australian Guy Pearce) to schizophrenic scientist John Nash in "A Beautiful Mind" (a role that won him a Best Actor Oscar). Part of Crowe's winning American accent is his ability to pitch his voice down to just above a growl (something employed by fellow foreigners Bale and Farrell).