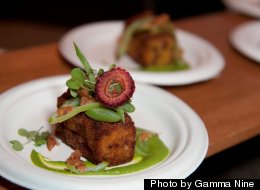 Gird your belt buckles. SF Chefs is coming this month.
The city's largest food, wine and spirits event, SF Chefs takes over the city (and most certainly Union Square) for a weeklong party of eating, drinking, dancing and cozying up to your favorite chefs. Have mercy.
This year's events range from a dinner on the modern American picnic to an Epic Roasthouse pig roast to a clandestine Q&A with the San Francisco Chronicle's famous food writer Michael Bauer. (Concealed behind a screen, no less.)
And then there's the grand tasting.
Dozens of San Francisco chefs (Emily Luchetti, Chris Cosentino, Tyler Florence, Jennifer Biesty, Thomas McNaighton, Ryan Scott and Craig Stoll to name a few) come together for a multi-day feast in the middle of Union Square.
And after dinner, there's always the smorgasbord of late-night afterparties with enough sweets and booze to make Monday's Alka Seltzer diet worth every moment. (Will Hubert Keller ditch the toque for the turntables? Outlook good.)
Check out a few of our favorite not-to-miss events at SF Chefs this year:
SF Chefs Event Highlights
Celebrating street food's meteoric rise, Tacolicious, 4505 Meats and Betelnut come together for a family-style street food feast with a whole roasted pig and Mexican and Asian street food favorites. Photo courtesy Niall Kennedy.

Hosted by Traci Des Jardins, the dinner shines a spotlight on the rich history and innovative future of Mexican cuisine in San Francisco. Photo courtesy Flickr: hijukal.

In honor of his 25 years at the San Francisco Chronicle, food critic Michael Bauer will appear (concealed behind a screen) to discuss his career, the reviewing process and his ultimate food cravings. Photo courtesy Flickr: oien.

It's the Iron Chef of SF Chefs. Pairs of SF's best chefs will face off in a cooking challenge (complete with mystery ingredient basket) judged by Eater's Carolyn Alburger, Delfina's Craig Stoll and Tasting Table's Jonathan Kauffman. Photo courtesy Flickr: vongjohnny.

Chefs from Wise Sons and Namu Gaji teach guests how to pickle just about anything from the Farmers Market during this demo. Photo courtesy Flickr: ZakVTA.