SF Chefs: Our Editors' Picks Of The Best Events, Previews And Parties (PHOTOS)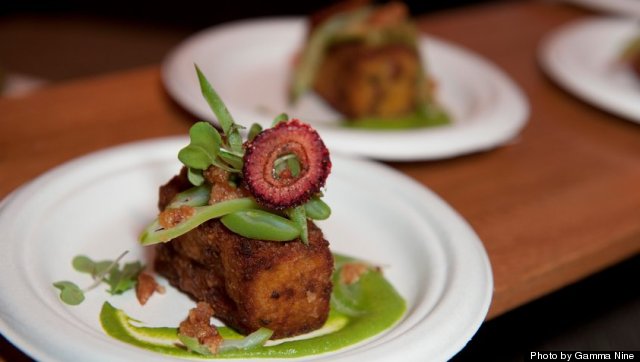 Photo by Gamma Nine
Gird your belt buckles. SF Chefs is coming this month.
The city's largest food, wine and spirits event, SF Chefs takes over the city (and most certainly Union Square) for a weeklong party of eating, drinking, dancing and cozying up to your favorite chefs. Have mercy.
This year's events range from a dinner on the modern American picnic to an Epic Roasthouse pig roast to a clandestine Q&A with the San Francisco Chronicle's famous food writer Michael Bauer. (Concealed behind a screen, no less.)
And then there's the grand tasting.
Dozens of San Francisco chefs (Emily Luchetti, Chris Cosentino, Tyler Florence, Jennifer Biesty, Thomas McNaighton, Ryan Scott and Craig Stoll to name a few) come together for a multi-day feast in the middle of Union Square.
And after dinner, there's always the smorgasbord of late-night afterparties with enough sweets and booze to make Monday's Alka Seltzer diet worth every moment. (Will Hubert Keller ditch the toque for the turntables? Outlook good.)
Check out a few of our favorite not-to-miss events at SF Chefs this year:
SF Chefs Event Highlights