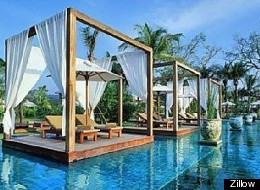 The happy couple that is Mariah Carey and Nick Cannon are reportedly shelling out $150,000 a month for a magnificent rental in the Hamptons.
Located in North Haven, the Peninsula is a private, 1.9-acre bay estate with a lavish 7,5000 square-foot mansion boasting six bedrooms and over 200 degree panoramic water views.
This is the couple's third summer renting in the Hamptons. In 2011, Carey and Cannon chose Tommy Hilfiger's former East Hamptons home to rent for a whopping $350,000 and the year before that, the couple reportedly spent $125,00 a week to stay at the Stone Meadow Farm.
See photos of the rental below: