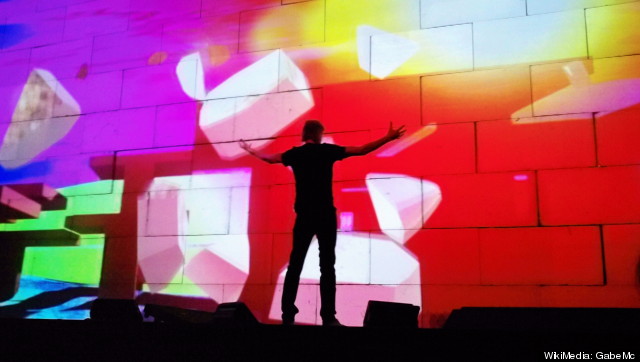 TOP 5 FOR THURSDAY, JULY 12
1. Roger Waters: The Wall Live At Verizon Center
The landmark album is fine and good, but the appropriate over-the-top production is the reason why we're picking this. How many more times will you be able to witness the building and destruction of 'The Wall?' 8 p.m., all ages, $64.85 to $280.35
2. Comedy, Sort Of: America, You Sexy Bitch With Meghan McCain At Washington DCJCC
An unlikely pairing of a former member of "The State" and "Stella" with the daughter of a former Republican presidential candidate wrote a book about how great America is. It's so great, the funny person, Michael Ian Black, was offered a role in a movie and won't be able to make this event. Hooray America! 7:30 p.m., all ages, $10
4. Morris Day And The Time At Howard Theatre
More funky than Prince, the Minneapolis band has been dancing sharp, dressing sharp, shaving sharp lines into their facial hair and playing tight tunes for more than 30 years. 8 p.m., all ages, $46
5. I Confess At Source
The Washington Improv Theater's contribution to the Fringe Festival, this improvised musical takes one secret from an audience member and turns it into a feature length production. Let someone's shame become your entertainment. 8 p.m., all ages, $15 to $17
TOP 5 FOR THE NEXT 5 DAYS
Friday, July 13
Buddy Guy at Wolf Trap
Blues legend Buddy Guy sounds much better outside in warm weather.
Saturday, July 14
"The Rise & Fall Of The Clash" at St. Stephens
This benefit for We Are Family will please most punk rock fans. The new Clash documentary by Danny Garcia covers the lesser known, later era of "The Only Band That Matters." Following the screening with be a Q&A with Garcia.
Sunday, July 15
Grand Piano Party at Clarice Smith Performing Arts Center
Part of the William Kapell International Piano Competition & Festival, we're picking this event because it has something for anyone that loves keys. Moog demonstrations, lessons in how pianos work, young artist competitions, children's rooms and more.
Monday, July 16
Refused, OFF! at Fillmore Silver Spring
The reunion of Refused is great, but OFF! is what makes us pick this show. The newish band is made up of Circle Jerks/Black Flag singer Keith Morris, Burning Brides guitarist Dimitri Coats, Redd Kross bassist Steven Shane McDonald and Rocket From The Crypt/Hot Snakes drummer Mario Rubalcaba. Vets with nothing to prove playing quick blasts of punk rock.
Tuesday, July 17
"Agony and Ecstacy of Steve Jobs" at Wooly Mammoth
Remember then "This American Life" made Mike Daisey sort-of, kind-of apologize for getting some important info about the Apple factory wrong? Let's see if that's been incorporated into the one man show.
SUBSCRIBE TO & FOLLOW THE MORNING EMAIL
The Morning Email helps you start your workday with everything you need to know: breaking news, entertainment and a dash of fun. Learn more