With the London Summer Olympics just two weeks away, we thought it only appropriate to highlight a controversial structure that was built in honor of the big event.
The ArcelorMittal Orbit is an observation tower nestled in the Olympic Park in Stratford, London. Completed in early May of this year, the tower was built to honor London's legacy as host to the 2012 Summer Olympics, but its mixed reviews have us wondering if this legacy will be a positive one.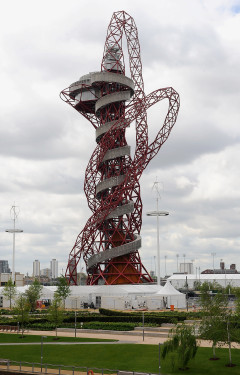 Photo by Getty
Standing at 377 feet, the twisted red tower is tallest sculpture in the United Kingdom. And while it was designed by Indian-born sculptor Anish Kapoor and the Sri Lankan architect Cecil Balmond with pride, many observers have called the tower an eyesore, dubbing it the "Eye-full Tower."
But the reviews haven't all been negative. Back in 2010 when construction was just starting, Jonathan Glancey of The Guardian said:
"The AM Orbit promises to be a genuine eyecatcher, the focus of TV camera crews at Stratford during the 2012 Games."
The mixed feedback doesn't seem to have the designers and engineers worried about its July 27 public opening. In an interview with the BBC, Kapoor said Londoners may just need some time to get use to the structure:

"The Eiffel Tower was hated by everybody for 50 years, or something like that. Now it's a mainstay of how we understand Paris. We'll see what happens here. But discomfort's ok."
So, the real question is: what do you think of the ArcelorMittal Orbit?
Correction note: A previous version of this article stated that the ArcelorMittal Orbit was the tallest structure in the United Kingdom. This unwittingly slighted the grand London skyscraper, The Shard, which measures up at 1,016 feet -- making this the tallest structure in the United Kingdom. The ArcelorMittal Orbit, however, is the tallest sculpture in the United Kingdom.
Have something to say? Be sure to check out Stylelist Home on Twitter, Facebook and Pinterest.