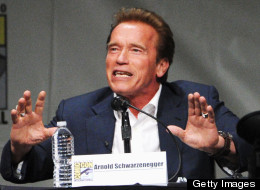 Before Arnold Schwarzenegger was talking about oiled muscles and the "Twins" sequel you didn't really want during the "Expendables 2" panel at Comic-Con on Thursday night, festival organizers and IGN feted the former governor with a video montage of his greatest hits kills.
Now, that clip has arrived online for your viewing pleasure. Remember when Schwarzenegger's John Matrix told Sully that he'd kill him last in "Commando"? That scene is here (no lie), along with a ton of other hilarious onscreen murders and executions.
Schwarzenegger, who is in the midst of an acting comeback, co-stars in "The Expendables 2" with Sylvester Stallone, Bruce Willis, Jason Statham and many more burly action heroes. He offered a few words of wisdom to those who dare to watch his video tribute on Twitter: "Warning: only watch this video if you want to see me kicking ass."
Noted.
Watch the somewhat NSFW clip above. Check out more musings from the "Expendables 2" Comic-Con panel by clicking here.
RELATED
Celebrities Turned Politicians
We all know Alec Baldwin looks good in a suit -- could that be why he's "very, very interested" in running for political office?

Wyclef Jean was very public about his intention to run for Haitian president in 2010 -- before finding out he was ineligible.

Jerry Springer proved his power in baby daddy battles and in politics when he became mayor of Cincinnati, Ohio in 1977.

There's no doubt that Ben Affleck wears his political affiliations on his sleeves -- and, when it comes to running for the real deal rather than just playing a lawmaker on-screen, Ben isn't opposed to the idea.

From "House" to the White House, Kal Penn quit his on-camera gig to become the associate director in the White House office of public liaison -- a job that's putting Penn on the map in terms fulfilling his interest in running for political office.

Although he only plays political on "The Colbert Report," there isn't a Stephen Colbert fan out there who wouldn't like to see the comedian give the real deal a go.

Like his buddy Stephen Colbert, there's no doubt that rumors of "The Daily Show" host, Jon Stewart's political aspirations will continue to pepper his career.

'Will he or won't he?' seemed to be the question on everyone's minds as Donald Trump not so subtly hinted at a 2012 presidential run. In the end, Trump fooled us all -- "The Apprentice" ratings went up before his candidacy went out the window.

Like mother, like daughter. According to HuffPost Celeb's Rob Shuter, Bristol is eyeing her future in the political spotlight.

From "The Terminator" to The Governator, Arnold Schwarzenegger served as the governor of California from 2003 until 2011.

Clint Eastwood put his cowboy boot-clad foot into politics when he became mayor of Carmel, California in 1986.

Before he became the 40th President of the United States, Ronald Reagan tried his hand at acting, appearing in films like "Cowboy from Brooklyn" and "Kings Row."

President Nixon appointed Shirley Temple Black to the 24th General Assembly of the United Nations in 1969 before serving as the U.S. Ambassador to Ghana.

Sonny Bono won the Palm Springs, California mayoral race in 1988 before joining the U.S. House of Representatives in 1994.