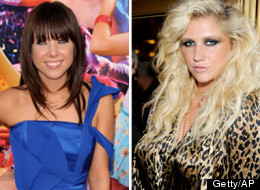 Carly Rae Jepsen may have the No. 1 song in the U.S. -- not to mention one of the catchiest hooks in the history of music -- but before she was telling guys to call her maybe, she was just another singer/songwriter hoping to get lucky on a reality singing competition.
In 2007, she placed third in the fifth season of "Canadian Idol," and it wasn't long until the Canadian songstress signed to a label and released her indie pop debut album, Tug of War, in September 2008. Three years later, she would ditch her guitar for a catchy synth.
But Jepsen isn't the only pop star to ditch her acoustic roots for a chance at cracking the Top 40. Before Katy Perry had whipped cream cannons in her bra, she went by Katy Hudson and released a self-titled gospel rock album in 2001.
Click through the gallery below to see what other pop stars started off as acoustic jammers.
Before They Were Pop Stars
Katy Perry is one of the most successful female pop stars of her generation. Not only did her sophomore album "Teenage Dream" go to No. 1 on the Billboard 200, but it also spawned five number one singles--"California Gurls", "Teenage Dream", "Firework", "E.T." and "Last Friday Night (T.G.I.F.)" -- which tied Michael Jackson's record of most No. 1 singles from the same album.

Before Katy was shooting whipped cream out of her bra, she was a struggling singer/songwriter living in L.A. "Simple" was featured in "The Sisterhood of the Travelling Pants."

Performing as Katy Hudson, Perry released a self-titled gospel rock album in 2001.

Now Ke$ha brushes her teeth with a bottle of Jack Daniels, but before she added that money sign to her name, Kesha Sebert was just another singer/songwriter struggling to make it in Hollywood.

In 2005, Kesha recorded this pop track for "The Barbie Diaries."

Proving that she's more than just a face full of glitter, Kesha shows off her guitar skills and folksy voice with her unreleased track, "Goodbye."

"Call Me Maybe" is currently the No. 1 song in America, and everyone from Maroon 5's Adam Levine to Katy Perry and even the Cookie Monster is obsessed with Jepsen's super catchy ode to unrequited teenage lust.

However, in 2010, a virtually unknown Canadian artist was singing an entirely different, more acoustic, tune.

It's hard to imagine that the same young artist who melodically crooned, "Dont go out with the girls tonight, I will turn to drink, wondering who you're screwing," on this track from 2008, is now asking boys to call her maybe.

Now, Lady Gaga is an international superstar who has over 26 million Little Monsters hanging on her every tweet, but before the ten-inch shoes, face lace and pyrotechnic breasts, she went by a different name -- and a different sound -- completely.

Before she was Lady Gaga, she was Stefani Germanotta, a dark-haired music student at NYU's Tisch School of the Arts. In 2005, Stefani performed at Ultraviolet Live, NYU's annual talent show. She ended up coming in 3rd place. Soon after, she would drop out of NYU. Fortunately, bigger things came her way.