Doug Eaton Gives Out Money On His 65th Birthday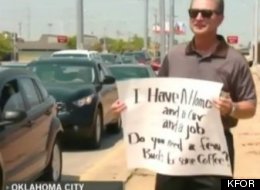 Birthdays are usually spent unwrapping presents, but for one Oklahoma City man, it meant giving presents to others.
Doug Eaton spent 65 minutes on his 65th birthday giving out $5 bills to strangers on a busy street corner in Oklahoma City. Eaton attracted the attention of news crews and passersby with his sign that read "I have a home... and a car... and a job. Do you need a few bucks for some coffee?"
While there's no final tally on how much Doug Eaton handed out, we think his birthday good deed is pretty priceless.
To hear more about the thoughtful way Doug Eaton spent his birthday, watch the video above (and see the gallery below for celebrities who also have birthdays in July).
EARLIER ON HUFF/POST50:
Post 50 Celebrity July Birthdays
Dan Aykroyd turns 60 on July 1.

Alan Ruck is 56 on July 1.

Larry David turns 65 on July 2.

Tom Cruise turns 50 on July 3.

Montel Williams turns 56 on July 3.

Geraldo Rivera turns 69 on July 4.

Huey Lewis turns 62 on July 5.

Sylvester Stallone turns 66 on July 6.

His Holiness the Dalai Lama turns 77 on July 6.

Ringo Starr turns 72 on July 7.

Kevin Bacon turns 54 on July 8.

Anjelica Huston turns 61 on July 8.

Toby Keith turns 51 on July 8.

Wolfgang Puck turns 63 on July 8.

Tom Hanks turns 56 on July 9.

Richie Sambora turns 53 on July 11.

Richard Simmons turns 64 on July 12.

Bill Cosby turns 75 on July 12.

Harrison Ford turns 70 on July 13.

Cheech Marin turns 66 on July 13.

Patrick Stewart turns 72 on July 13.

Jane Lynch turns 52 on July 14.

Forest Whitaker turns 51 on July 15.

Arianna Huffington turns 62 on July 15.

David Hasselhoff turns 60 on July 17.

Donald Sutherland turns 77 on July 17.

Phyllis Diller is 95 on July 17.

James Brolin turns 72 on July 18.

Nelson Mandela turns 94 on July 18.

Carlos Santana turns 65 on July 20.

Jon Lovitz turns 55 on July 21.

Robin Williams turns 61 on July 21.

Danny Glover turns 66 on July 22.

Alex Trebek turns 72 on July 22.

Woody Harrelson turns 51 on July 23.

Lynda Carter turns 61 on July 24.

Mick Jagger turns 69 on July 26.

Kevin Spacey is 53 on July 26.

Arnold Schwarzenegger turns 65 on July 30.

Laurence Fishburne turns 51 on July 30.

Buddy Guy turns 76 on July 30.

Wesley Snipes turns 50 on July 31.