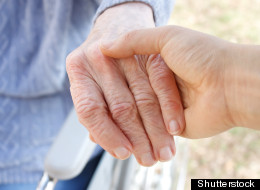 Be careful who you entrust to care for your parents. New research from Northwestern Medicine suggests that many nursing agencies recruit people with no experience to provide in-home care for seniors off Craigslist.
The study, published Friday in the Journal of American Geriatrics Society, found that many agencies nationwide fail to conduct criminal background checks or drug testing for new hires and don't require any real experience or training, which may lead to elder abuse.
"People have a false sense of security when they hire a caregiver from an agency," lead study author Lee Lindquist, M.D., said in a statement. "There are good agencies out there, but there are plenty of bad ones and consumers need to be aware that they may not be getting the safe, qualified caregiver they expect. It's dangerous for the elderly patient who may be cognitively impaired."
Of the 180 agencies researchers surveyed in the study, 55 percent conducted a federal criminal background check and only one-third of those agencies interviewed administered drug tests.
"Considering that seniors often take pain medications, including narcotics, this is risky," Lindquist said. "Some of the paid caregivers may be illicit drug users and could easily use or steal the seniors' drugs to support their own habits."
Lindquist, a physician at Northwestern Memorial Hospital, recalled a particular situation in which she witnessed dangerous caregiving first-hand. The caregiver of a 103-year-old patient was frequently mixing up her own medications with the patient's, giving her medicines to the elderly patient by mistake because she was illiterate.
"Some of the paid caregivers are so unqualified it's scary and really puts the senior at risk" for elder albuse, Lindquist said.
Since elder-care referral agencies lack federal regulation, almost anyone can set up an agency and refer largely untrained and unexperienced people for in-home senior care. That's why it's so important for caregivers to be carefully screened and monitored.
"The public should demand higher standards, but in the short term, seniors need to be aware what explicitly to look for when hiring a paid caregiver through an agency," Lindquist said.
Beth Kallmyer, vice president of constituent services at the Alzheimer's Association, recommends people check in on caregivers from time to time, without giving advanced notice.
"Drop in and see how it's going," Kallmyer told HealthDay. "These unannounced visits are a really good way to help people feel comfortable about what's going on."
Check out the gallery below for more tips on how to find the best caregiving for your loved one and avoid elder abuse.
Tips For Choosing An Elderly Caregiver
One of the first decisions in choosing an elderly caregiver is deciding whether to interview independent candidates or look to a caregiving agency, according to Caring.com. If you choose the later, it's best to choose a leading national or regional chain that is well known for it's professionalism and training. Run through a caregiving checklist, such as The Caregiver Partnership's 10 important caregiver criteria, which covers specific needs including language requirements, memory care, nutrition needs and transportation, or ask the 10 crucial questions proposed by Lee Lindquist of Northwestern Memorial Hospital.

Before interviewing a caregiver candidate set clear job expectations and tailor interview questions to assess the candidate's experience carrying out tasks that will be required, Caring.com recommends. Inside Elder Care suggests creating a timeline of daily activities so the potential caregiver will be fully aware and prepared for any and all day-to-day duties.

When looking for someone to care for your parent day in and day out it's best to include your senior in the interview process, according to Caring.com. "Having shared interests can make a big difference," Jacqueline Dollar, a geriatric care manager, said. "One of my clients loved NASCAR and found a home health aide who did, too. They immediately hit it off."

Make sure your parents receive the appropriate amount of care by assessing the caregiver's degree of speciality, Inside Elder Care recommends. If the patient requires special treatment for a particular ailment, make sure that the caregiving candidate is properly trained and well versed in that area.

Whether you choose an agency or not, checking into a caregiver's background is a must. Asking for references can provide insight into the caregiver's past experience and training. Conducting an independent background check may also be useful to ensure that a caregiver is properly vetted.