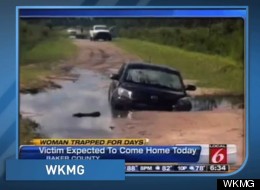 SANFORD, Fla. — A central Florida woman suffered from dehydration after being stuck in her car for three days after accidentally driving into a water-filled ditch.
The Orlando Sentinel () reports Joyce Gembecki of Sanford was expected to be released Friday from Baptist Medical Center Downtown in Jacksonville. She was treated for dehydration and to regulate her body temperature. http://bit.ly/MlyZ6z
Baker County Sheriff's spokesman Joey Dobson says Gembecki went for a drive Monday and ended up about 150 miles away. She got stuck after driving down a dirt road in a state forest before ending up in the ditch.
A Florida Forest Service ranger spotted her Thursday. The water covered her lap and the hood of her car.
___
Information from: Orlando Sentinel, http://www.orlandosentinel.com