Jason Kidd Club Photo: Knicks Guard Carried Out Of Club Before DWI Arrest
Early on Sunday morning, New York Knicks point guard Jason Kidd was arrested for DWI after crashing his Cadillac Escalade into a telephone pole in the Hamptons. According to Southampton Patch, local police responded at 1:56 A.M. and found the 10-time NBA All-Star alone in his vehicle.
TMZ reports that the 39-year-old NBA veteran had spent part of his night partying at a club called SL East and got so drunk that he needed to be carried out.
TMZ obtained a photo of Kidd allegedly being helped out of the club.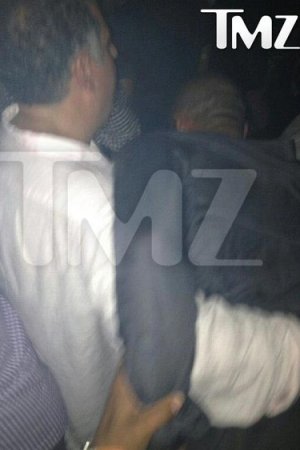 Earlier in the evening, Kidd and his wife, Porschla, both tweeted a picture of the two of them together at the Compound Foundation event in East Hampton. The New York Daily News reports that the event was hosted by rapper Ne-Yo to honor George Lucas at the home of the CEO of Sprint, William Nuti.
Kidd decided to leave the Mavericks and sign a three-year deal worth $9 million with the Knicks earlier this month.