Adamari López debutó este lunes como la nueva integrante de "Levántate", que con su incorporación ahora se llama "Un nuevo día". Los antiguos presentadores Rashel Díaz, Omar Germenos, Azucena Cierco y Daniel Sarcos continúan en el matutino. Lee aquí la entrevista con Adamari López.
Aunque Adamari era una cara más conocida en Univision que en Telemundo, especialmente por las múltiples telenovelas que hizo con Televisa, y su reciente participación en el reality show "¡Mira Quién Baila!", no dudó un momento en aceptar la oferta de la segunda cadena más importante de Estados Unidos para enfrentar este programa diario. En su natal Puerto Rico, López trabajó en los inicios de su carrera en la afiliada de Telemundo en la isla.
En entrevista con HuffPost Voces confesó que después de la enfermedad había sentido una gran necesidad de estar en un formato televisivo de este corte, especialmente con segmentos de ayuda a personas que enfrentan difíciles situaciones personales o de enfermedad.
"Creo que papá Dios me ha puesto siempre en el lugar que debo estar. Telemundo me ha dado la oportunidad de estar en un programa día a día, y después de la enfermedad se incrementó mucho el deseo de compartir con la gente, de escuchar historias y qué mejor que esta oportunidad", dijo la actriz.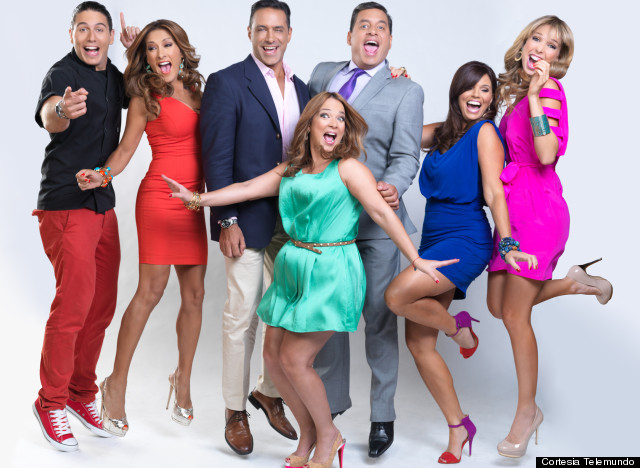 Adamari explicó que aún no tiene claro los segmentos que estarán a su cargo. "Yo vengo a aportar risas, simpatías. Todavía no sé los segmentos, pero habrá uno de contacto con la gente, ver por qué están pasando momentos difíciles, la faceta en que están teniendo problemas, si es una mujer que ha tenido una enfermedad que venga y nos cuente su historia".
La actriz actualmente radica en Miami junto a su novio,Tony Costa, a quien conoció en la última edición de "¡Mira Quién Baila!", en la que resultó ganadora.
Adamari López en "Levántate"
SUBSCRIBE AND FOLLOW
Get top stories and blog posts emailed to me each day. Newsletters may offer personalized content or advertisements.
Learn more